The price movement of Bitcoin Cash has reflected a hefty improvement in the opening hour. The coin breached 90-days high at $454. The traders were elated to see BCH coin at a higher level.
The closing hours might experience a marginal drop in the price. However, in the long-term, the currency is speculated to have a great future. Thus, investment in the coin wouldn't go futile.
Bitcoin Cash Price Analysis: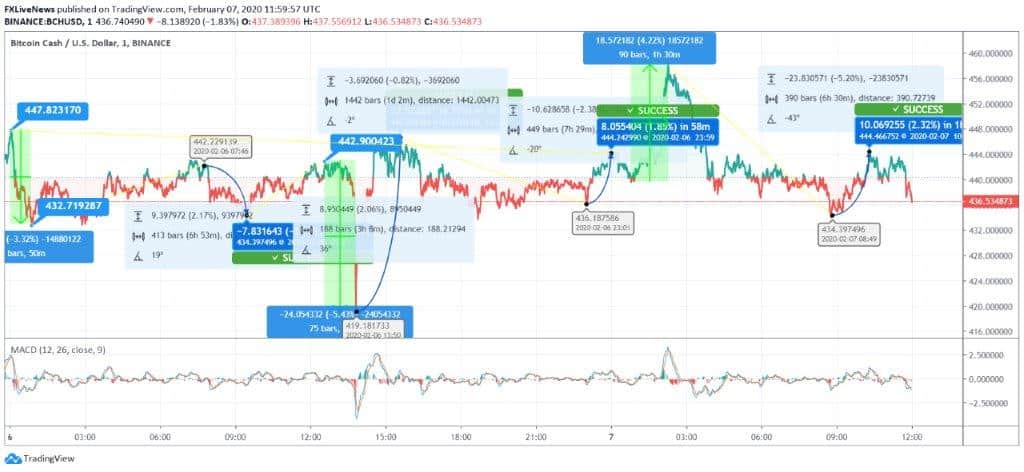 Bitcoin Cash price was at $447 on February 07, and then, it dropped to $432 by 3.32% within the first hour. The price jumped to $442 by 2.17% in the next 6 hours and 53 minutes. Then, the BCH coin dropped to $434 and again recovered to $442. Later, the price of Bitcoin Cash dropped to $419 at 13:50 UTC. The coin jumped to $446 by 6.57% at 15:35 UTC and then, it slipped to $436 by 2.38% at 23:01 UTC. The closing hour picked up the BCH price to $444. The intraday movement in the coin reflected a marginal regression in the price.
Today, Bitcoin Cash opened with an escalation. The price counter jumped to $458 from $440 by 4.22%. The currency price fell in the next 6 hours and 30 minutes to $434. From this level, the coin escalated to $444 by a 2.32% hike. The currency is currently at $436 and looks like it might violate the immediate support level at $431.
R1: $449.88, R2: $456.98 and R3: $468.02
S1: $431.74, S2: $420.7 and S3: $413.6