Chainlink (LINK) has not been able to perform well during the start of the year due to the continual bearish pressure in the crypto market. Even the past one-month price trend presents a dismal performance for the currency, with the price being mostly below the baseline. And recently, the currency has shown a strong upward move amidst heavy fluctuations. The price of LINK crypto has been fluctuating in the range between $2.8 – $4.7 over the past 30-days.
Chainlink Price Analysis
LINK price has been in the doldrums since the bearish momentum took over the crypto market and continues to be under strong bearish grip as seen from the last 30 days' price trend. Chainlink started the month on a low note at $2.8007 on January 19. It further fell to $2.4989 by 11.48% fall in the next 5 days. There was a slight recovery marked on January 30, with the price being at $2.8729, the recovery being at 15.49%. The price of LINK again had a fall on February 04, where it fell to $2.69 by a marginal drop of 5.48%. From this low, the currency started trading upwards steadily and reached a high of $4.1523 by a huge hike of 54.27%.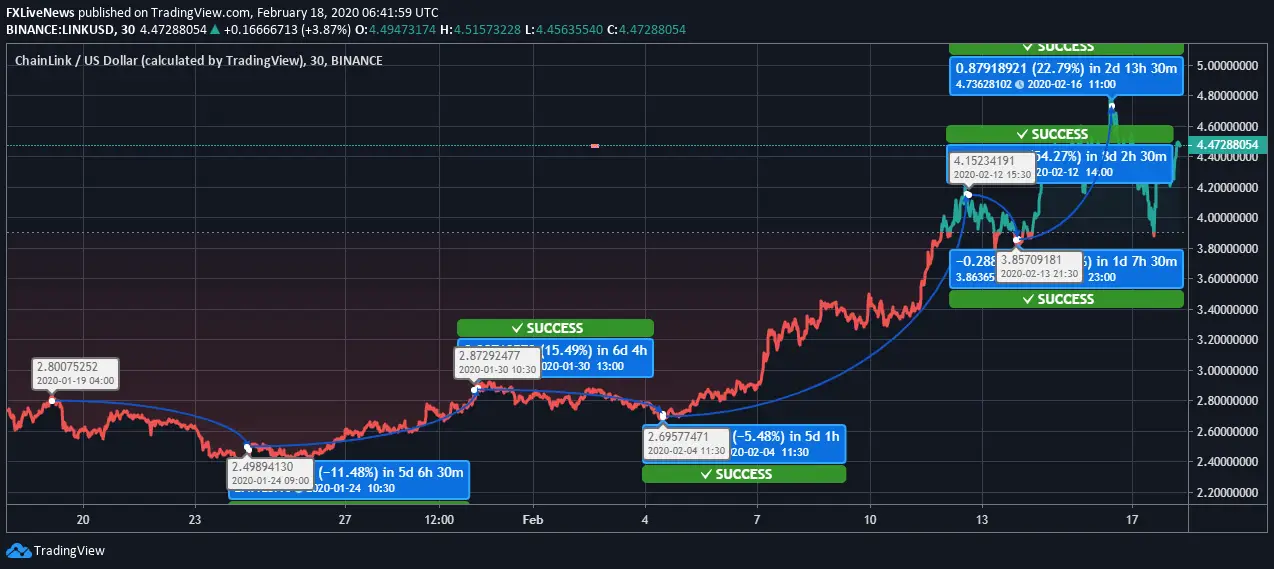 After reaching at this high, the LINK price corrected down to $3.8571 on February 13 by a moderate drop. Later, the price again escalated to $4.7362 showing an upward movement at 22.79%. The current day's price of Chainlink has fallen to $4.4728. The coin has shown good recovery during the fag end of the 30-day price movement but has to be seen in the coming days, whether the coin will be able to maintain this stable upward momentum as the bear pressure is still too strong.
Analysts expect the crypto market to show more stability during the year and LINK coin to follow suit. Investors should wait for the crypto market to be more stable and continue to hold on to their investments. Day traders can still make decent gains if the coin continues to perform like the last few days.