There is a lot of noise about Zerodha regarding how trustworthy it is, how beginner-friendly it is, is it really worth all the effort, is it genuine, and so on. It is a known fact that there is no smoke without fire. So what is causing so much publicity about Zerodha? Are the market manipulators trying to pull down the image of Zerodha, is the platform itself trying to gain publicity by creating a lot of noise in the media, or it is the authenticity of the platform causing Zerodha to become the talk of the town? In this review, we are here to dig down till we find the bare facts and truth. So instead of blindly believing anyone's opinion, read through the following article and decide it for yourself what the truth is:
What is Zerodha all about? Know by Zerodha Review
Market research revealed that Zerodha is an India broker which was formed in 2010 by Nithin Kamath. The vision of the broker platform is to offer high-tech trading services at pocket-friendly pricing. It is the biggest discount broker in the country. The platform has more than 1.5 million active retail users. The big number of users point at the truth of performance by the broker platform.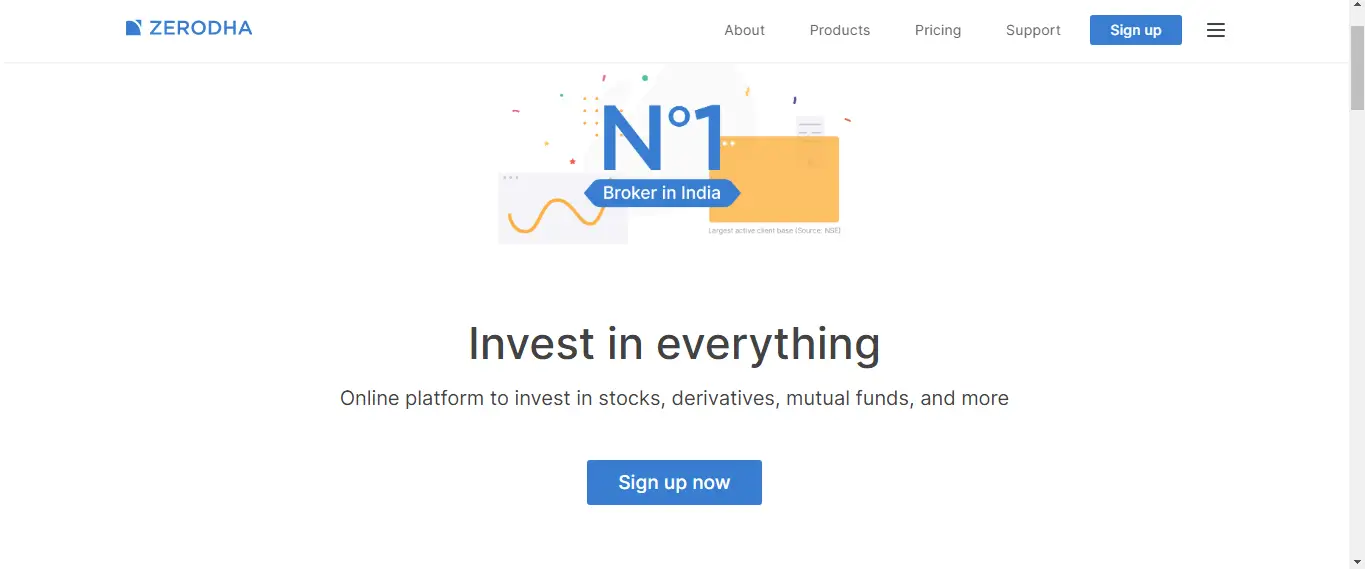 Zerodha Review: Best Broker Platform Zerodha
Why is Zerodha such a big name?
Zerodha has made its name for offering lower brokerage charges. It is as low as 20 INR (i.e., 0.27 U.S Dollars) per trade. It is a fixed brokerage price, which means it is not affected by the trade volume. In addition, it offers 0 percent brokerage on stock delivery. The Bangalore based share broker platform- Zerodha, which was established back in 2010, is also known by many names such as 'budget broker, discount broker, pay per order broker company, and so on. It offers versatile services when it comes to trading stock, commodity, and currency derivatives.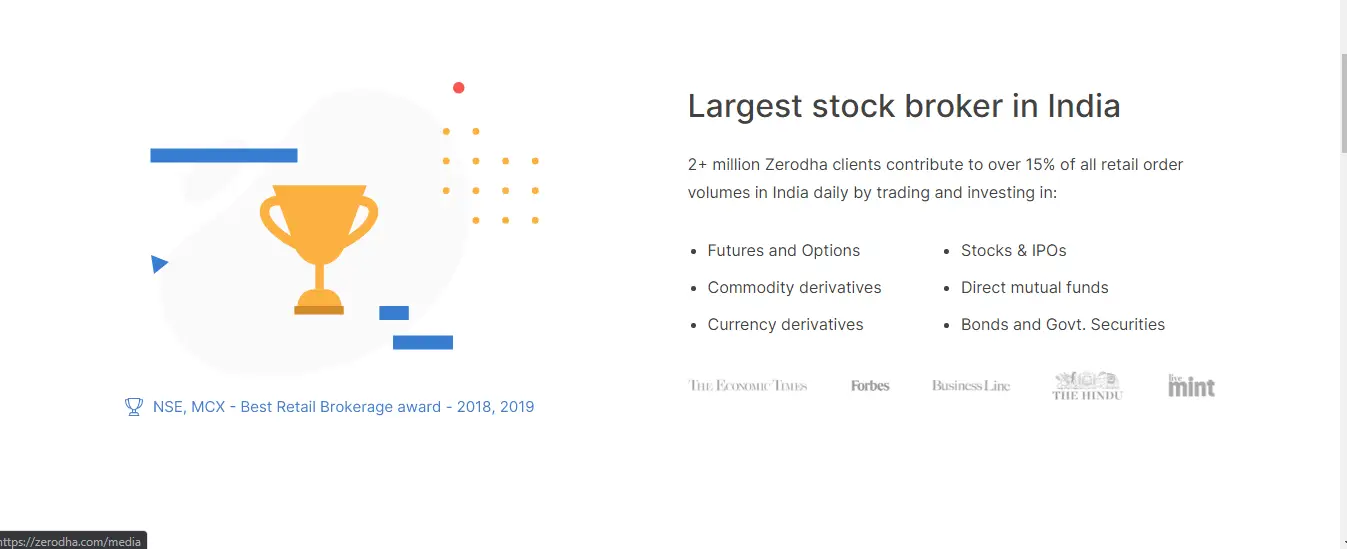 Zerodha Review: Largest stock broker in India
A true leader does not only seeks only his or her personal growth but seeks the growth of the entire community. That is exactly what Zerodha does too. It offers educational services to support its users with the power to true decision making and to make higher profits in the future. Zerodha offers:
Zerodha Varsity

Zerodha Trading Q&A
Through these two services, Zerodha encourages its users to interact with the platform and grow in their trading and investment trajectories. Here is a little glimpse of what these two platforms offer:
Zerodha Varsity:
In short, Zerodha Varsity is an investor education initiative. It imparts knowledge about several trading and investment components, skills, insights, and so on. A few details about Zerodha Varsity are:
There are ten educational modules or courses under Zerodha Varsity.

Zerodha Varsity imparts knowledge about stock trading, the technical analysis of the stock trading industry, fundamental analysis and theories to offer a wider perspective, insights on options strategies as well as the futures trading, and so on.
The modules are easy to understand and are designed to suit the busy lifestyle of the clients these days. They distilled knowledge nuggets that aim to impart knowledge-based confidence to the users of the brokerage platform.
Trading Q&A:
As the name suggests, Trading Q&A allows the users to pitch their doubts and queries with the experts from Zerodha to get the much-needed support for trading and brokerage needs. This segment is especially beneficial for the new users as the support is strong and interactive in nature. A few salient features of this segment are:
It is free of cost and open to all in nature.

It covers important Zerodha related components such as stock trading, stock markets, Zerodha services, other details about the platform, and so on.

The experienced Zerodha customer support, Zerodha representatives team, is always on a look-out to support the users.

Zerodha Review: Best Trading Q&A at Zerodha
Why would a platform go the extra mile when it is already the number one name in India? Well, the reason is simple- it reflects the intention, business ethics, and vision of the company. Its aim is somewhere beyond just making profits. And that is how a platform earns the much worthy- 'trust of the users.' Now, that is a very lucrative incentive for many to use this brokerage platform, isn't it? Is that the secret of its massive user base? Well, let's dig in further!
Yeah, Zerodha offers attractive features, but is it safe?
A pragmatic mind checks everything that glitters, before believing it. That is why we are probing this question early on in our brokerage review, whether this platform is safe? Well, are researching about this brokerage platform, we found out that Zerodha is indeed a safe platform:
It is regulated by the Securities and Exchange Board of India (SEBI). SEBI is one of India's top regulators.

Zero offers its users to trade in a plethora of options which includes Stocks, Mutual funds, Futures & Options, Govt. Securities, and Sovereign Gold Bond. It is able to do so because it is a member of:
Bombay Stock Exchange (

BSE)

National Savings Certificates (

NSC)

Multi Commodity Exchange of India Ltd (

MCX)

Multi Commodity Exchange Stock Exchange (

MCX-SX)
Now, tell me what all Zerodha offers?
Zerodha hasn't accumulated such a massive user base out of just making tall promises. The secret is simple- it has walked the talk all these years. Zerodha offers its users a lot of customer-centric attractive features that bring about a mutual benefit to the platform and the users. Let us have a look at what Zerodha offers:
Zerodha Charges based on the type of brokerage:
The low charges of Zerodha are peculiarly attractive USP of this trading platform. But we did not get satisfied with only that statement. We wanted to find out for ourselves about each and every detail of this USP to help you gain a clear perspective.

Zerodha Review: Unbeatable Pricing Of Zerodha
So, here are the types of services and their charges at Zerodha:
For

equity delivery,

Zerodha charges no brokerage fees. Yes, it is absolutely free.

When it comes to

equity intraday

, the brokerage fee is Rs. 20 (~0.27 U.S Dollars) on every executed order or 0.01%

When dealing with

equity futures,

the user needs to pay a brokerage fee of Rs. 20 (~0.27 U.S Dollars) on every executed order or 0.01%

The brokerage charges for the

equity options

are also very low. It is Rs 20 (~0.27 U.S Dollars) per executed order or 0.01%

The user needs to pay Rs. 20 (~0.27 U.S Dollars) on every executed order or 0.01% when dealing with

currency futures and options

.

For

Commodity F&O,

the same fee of Rs 20 (~0.27 U.S Dollars) per executed order or 0.01% is charged at Zerodha.
Please Note: If you are interested in opting the Call and Trade option, then you can freely do so by paying an additional charge of Rs 20 per (~0.27 U.S Dollars) order in addition to the above fee structure.
The surprisingly low annual Zerodha Charges:
It is a mark of truth and confidence in the platform's service when, despite being the country's leading name, its charges are nominal and affordable for everyone. Zerodha's annual charges will pleasantly surprise you too:
The 12 months

account opening charges

at Zerodha are Rs. 300 (~4.08 U.S Dollars)

If you are interested in

opening a Demat account

at Zerodha, the annual charges are Rs 100 (~1.36 U.S. Dollars)

You don't have to pay anything towards the annual fees for the Zerodha

trading account maintenance.

Whereas, when it comes to the

Demat accounts maintenance charges

, it is again quite low- Rs. 300 (~4.08 U.S Dollars)
Please Note: The above fees are minimal and are mandatory to be paid to avail of Zerodha's services.
Zerodha's Products:
Zerodha is a very versatile brokerage platform. It has something to offer to all types of users' needs. Here are a few products that you can avail on the trading platform:
1) Zerodha Coin:
Zerodha Coin is very effective for users who are seeking to purchase mutual funds. 

Zerodha Coin is absolutely

free of cost.

This coin allows them to make easy

online purchases

from any asset management platform of their choice.

 

What more- with Zerodha coin, one can do so

without

any

commission

of any kind. This helps the users to save on both the upfront and remaining commissions.
Please Note: Those of you, who are interested in investing directly, can do so by visiting the fund house's website or office. Therefore, by simply filling up the form, you can start to invest in the funds.
2) Coin Mobile:
The trading platform offers a mobile app called- 'Coin Mobile.' This app, along with being super convenient, it is also packed with all the features that the user may need for investing in the mutual funds.
To initiate the using the Coin Mobile app, all you need to do is to log in with your Kite account, and you are good to go!
3) Kite Connect API:
A cluster of straightforward HTTP APIs that are generated on top of Kite is called Kite Connect API. Kite is Zerodha recognized and approved web trading platform. It allows you to create a full-fledged trading platform with the help of Kite. With the help of Kite, the users can access the following types of information:
Profile information and related settings.

Data related to the funds.

One can check the details about the order history.

One gains access to the positions any time one needs.

Live quotes can be accessed through the Kite Connect API platform.

The user can also place orders and micro-manage his or her trading portfolio at their desired time.
Please Note: The Kite Connect API is free of cost for startups. But for the retail businesses, there is a charge of Rs. 2000 (27.17 U.S. Dollars) on a monthly basis.
4) Console:
The console is basically a trading and reporting dashboard. The Kite Connect users can take full advantage of this dashboard for various activities such as tracking, managing, setting their API access. In addition, the user can halt, re-start, or nullify access through this dashboard. Basically, it is like a remote control for monitoring all the API access.

Zerodha Review: Console of Zerodha
5) Margin at Zerodha:
Zerodha offers different margins to different segments on its platform. Here is a summarized version of the same:
There is no margin offered for Zerodha Margin Equity Delivery.

The users get up to 20 times margin when it comes to Zerodha Margin Intraday Equity.

Users of this brokerage platform get up to 40 percent of the normal margin, which is also called- NRML, on Zerodha Margin Equity Futures.

When it comes to Zerodha Margin Equity Options, there are no margins offered by the trading platform.

The user gets up to 40 percent of the normal margin (NRML), for Zerodha Margin Currency Futures.

As far as Zerodha Margin Currency Options are concerned, there is no margin offered by Zerodha to its users.

The same is the case with Zerodha Margin Currency Options, i.e., there are no margins offered to the users by Zerodha.

Up to 40 percent of the normal margin (NRML) is offered by Zerodha to its users for Zerodha Margin Commodity.
Zerodha's Trading Platforms:
Now, let us talk about Zerodha's trading platform. Here is a list of platforms the user can avail through Zerodha:

Zerodha Review: Zerodha's Web Platform – Kite
1) Kite 3.0:
Zerodha offers a web trading and investment platform called Kite 3.0. Kite 3.0 is a versatile platform that can be used on various electronic devices such as smart-phones, tablets, desktop, and laptops, etc.
Not only this, but Kite 3.0 also allows a dynamic range of stocks and F&O contracts, which accounts to be more than 90K. These can be used across major stock exchanges such as:
The Bombay Stock Exchange (BSE)

National Stock Exchange of India Limited (NSE)

Multi Commodity Exchange of India Ltd (MCX)

 
Further, both beginners, as well as the experienced users of this platform, can use Kite 3.0 totally free of cost. It is a very efficient web trading and investment platform which comes with a user-friendly interface, offers real-time widgets, advanced charting, and it also takes into account all the stock exchanges.
2) Kite Mobile:
As the name suggests, Kite mobile is a mobile-based application. Zerodha has designed this app for both Android as well as iOS users. The Kite Mobile app has the following advantages:
Trading and monitoring the live streams has become so much easier for the users.

The app covers all the major stock exchanges, which include- The Bombay Stock Exchange (BSE), National Stock Exchange of India Limited (NSE), and Multi Commodity Exchange of India Ltd (MCX).

This app uses very little bandwidth consumption (less than 0.5 Kbps), which makes this app fast and light to use. The ease at which these apps work allows the users to keep a close tab on all the market movements easily.

 

The Kite Mobile app comes with a thorough range of charting. T offers more than 100 indicators and also offers six different chart types and advanced order types. 

In addition, it also allows users to make millisecond order placements.
Please Note: Although it is a mobile app and works seamlessly, no feature of the Kite 3.0 platform has been compromised on this app. The users get the full range of features on this app too.
3) Sentinel:
Need a reminder for price alerts? Don't worry- Sentinel is here. This is basically a market price tool that sends the user/s regular alerts for on-cloud elements such as:

Zerodha Review: Get price alerts with Sentinel
These alerts work based on the limits the user sets. Based on those settings, whenever the price gets hit, the user gets notified. Once the setting is made, it stays there for a long period of time and does not require constant adjustments. Sentinel allows the users to set notifications for more than 80 K:
Stocks

Bonds

Commodities

F&O Contracts

Currencies on OHLC exchanges

Bids and offers
One should note that these alerts are in addition to the price. Sentinel sends notifications through the web as well as email, based on the user's preference.
4) Zerodha PI
In short, Zerodha PI is basically a trading terminal that the user can easily install. It allows the user to trade across- The Bombay Stock Exchange (BSE), National Stock Exchange of India Limited (NSE), and Multi Commodity Exchange of India Ltd (MCX). This trading terminal offers several features that include advanced charting, algos, strategies, backtesting, and so on. It is an incredible thing on Zerodha's part that all of these features are offered to the users absolutely free of cost.
Want to open an account with Zerodha?
We can understand, after reading about all the features and services of the brokerage platform, you will be eager to know how you can get going and start to reap benefits at this platform. Don't worry; we have got your back!

Zerodha Review: Open a Zerodha account
In reviewing Zerodha, we even went to the lengths of opening account with it, in order to offer you a detailed and accurate review. It is quite a straightforward and simple process. It can be completed within minutes. All you need is online access to Zerodha. So without wasting any time, here is how you can open your first-ever account with Zerodha:
Tip: Having your Aadhaar Card as your identity proof makes the account opening process way easier and smoother.
What are the document's requirements?
In order to open an account with Zerodha, you would require the following documents:
A valid PAN Card (Permanent Account Number)

An up to date Aadhaar Card

Passport size photo (2X2 Inches)

Passbook of your saving bank account or a canceled cheque
How much time does it take to open a new account at Zerodha?
Yes, this question is an important one, given the busy lifestyle of every person pushes them to rush around so much! Well, the good news is that it just takes:
30 minutes

to successfully complete the opening process of your Demat and trading account.

The account gets opened within

24 hours

after successfully completing the account opening process. 
Truth revealed from the testimonials:
Testimonials are the real deal about the performance of any platform. Research suggests:
The customers, who have migrated from the other trading and brokerage platforms to Zerodha, have experienced 80 to 90 percent of saving in brokerage. 

This satisfaction rate points to the advanced efficiency of Zerodha, which is backed with high-end technology and pleasantly affordable stockbroker prices.

 

Not only this, Zerodha is versatile as well as a flexible brokerage platform. It suits all kinds of users whether they are new to trading and investing and are looking for light trading experience, or whether they are experienced ones.
Our Conclusion:
Founded in 2010, Zerodha is the number one brand in India in the discount broker category by volume, client numbers, and overall growth. According to the latest reports of 2021, the platform has more than 9.79 active users, and Zerodha has more than 1,000 employees located at its Bangalore office. This definitely is a sign of trustworthy performance, customer-satisfaction, and true promise of delivery. Therefore, in our view, this platform is trustworthy and should be used for your trading and investment needs. We have come up with strengths and areas of improvements where Zerodha can make further growth, for you to have a clear understanding of the platform:
The USPs of Zerodha as a platform:
Zerodha has exceptional qualities that render it class apart. The qualities such as there are no brokerage charges for delivery, or the fact that there is fixed or at least very low brokerage despite the trade volume, and another quality like there is no minimum balance expected on the users' end for opening an account; makes this trading and brokerage platform distinct and attractive.
Those users who are in need of regular trade and do not require huge margins and wish not to pay high brokerage; would find Zerodha a good match for their requirements.
Areas where Zerodha can improve:
Zerodha is, no doubt, a great platform. Its huge user base and the fact that it is India's leading name in the industry simply proves the efficiency of the platform. But like with anything else, there is always a scope of further improvement; we observed a few key points where Zerodha can pull its game a notch higher. Areas such as the following can be improved:
There are, at times, delays and service downtime faced by the users during trading hours.

Zerodha offers quite low margins, whereas other brokerage platforms re offering quite competitive margins.

Another area of improvement can be opening up about the IPO segment. Currently, Zerodha does not allow users to invest in the IPO.
Zerodha
Pros
Greatest stockbroker considering active retail customers.
Zerodha runs various open online community initiatives and educational activities.
It provides services identified with online trading, 24/7 support.
Cons
Zerodha covers only the Indian market.
Zerodha does not offer investor protection.
In the equity cash segment, margin against shares is not available.
Zerodha is a completely a tech-based firm with no physical presence.
Zerodha does not provide any kind of research and advisory.