In this in-depth Interactive Brokers Review, we are going to review a Connecticut (Greenwich) based online broker that was established in 1977 by Thomas Peterffy. Last year in May, this broker platform recorded an open market each day, and its clients placed 894,000 trades on average! This one is an uber-safe online broker as it is regulated by many top-tier financial authorities which include U.K.'s Financial Conduct Authority (FCA) and the U.S. Securities and Exchange Commission (SEC)} on a worldwide scale.  
Without stretching the suspense too far, here is the name of the online Broker we are talking about- 'Interactive Brokers.' Pondering on its long-standing presence in the industry, Interactive Brokers boasts a long track record and publicly transparent financials, which ultimately adds to its reputation and earns trust.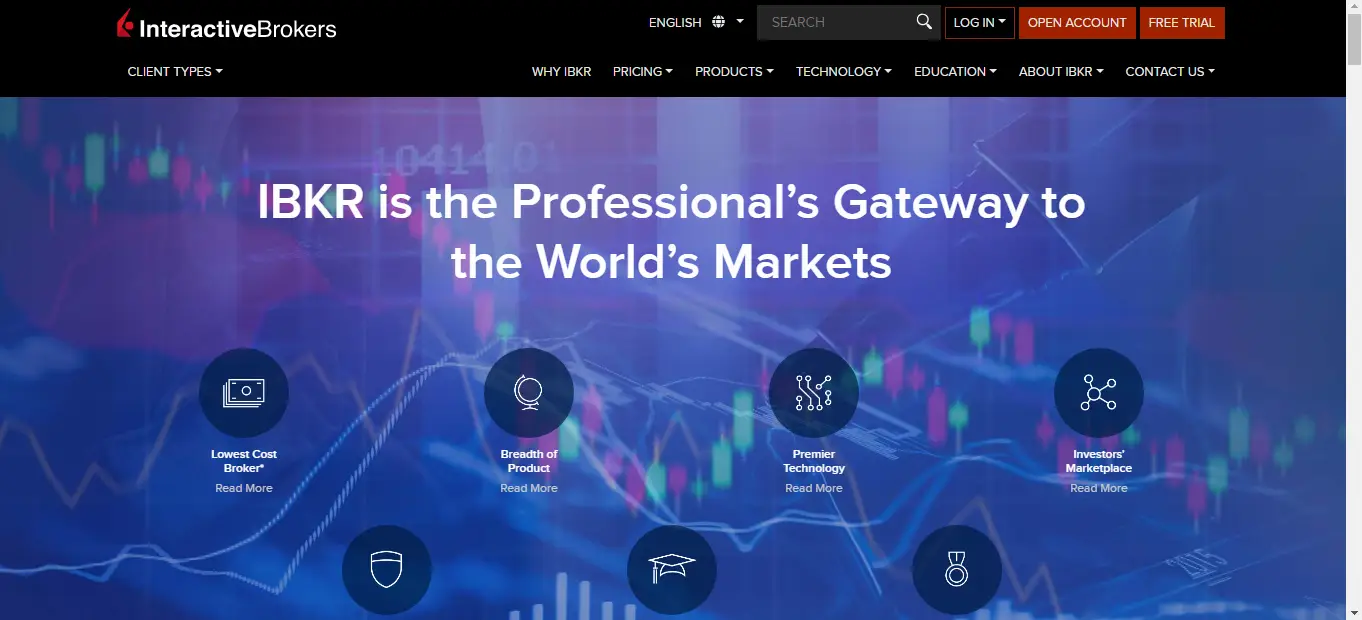 Interactive Brokers Review: Best Online Broker is Interactive Brokers
Quick facts about Interactive Brokers:
Extensive Global trading platform:

Interactive Brokers opens up the gates to 125 international trading markets (which are spread across 31 countries worldwide) to its traders. The global trading access offers the users of this platform to explore and make the best use of the exposure. 

Industry-leading commissions:

The traders at Interactive Brokers get to enjoy the perks of industry-leading commissions. For instance, they can use the lowest margin rates that are applicable throughout all the balance tiers.

Versatile trading options:

We think, Interactive Brokers has not left any stone unturned! The reason we say so is that this online Broker offers: Day Trading, Mobile Trading, Options Trading, Futures Trading, Professional Trading on the go, and 65 different types of order types.

Oh! So Inexpensive! :

It is surprising that Interactive Brokers offer so many services at such low prices. For instance, for a standard platform, Interactive Brokers charges 0.005 U.S. Dollars per share and ZERO U.S. Dollars for IBKR Lite.

Minimum Account Balance: Interactive Broker's bare minimum expectation for an account's minimum balance is ZERO U.S. Dollars. Yes, it is ZERO!
How good is Interactive Brokers?

Interactive Brokers Reviews – Interactive Brokers Rated No. 1
Interactive Brokers is one of the top international online trading brokers. It has won the reputation of bagging top ranks in the following areas:
Best online brokers for low costs

Best overall online brokers

Best online brokers for option trading

Best online brokers for day trading

Best online brokers for international trading

Best online brokers for penny stocks
So, the answer to the question of whether Interactive Brokers is good; is an obvious yes! This online trading broker has earned a strong reputation in the industry for offering cutting edge low-cost trading for professional traders. Interactive Brokers offers a plethora of trading tools to its traders to amp-up their trading performance higher and higher as they roll.
So, is Interactive Brokers good for the beginners?
The short and surprising answer to this question is- the Broker is not very comfy for the beginners. Yes, Interactive Brokers has made strides of progress in making its website easy to use for the first-timers and for the new users, but still, it is not yet on the mark. Although Interactive Brokers offers strong and reliant research and education programs to its new users, still this department needs more work from Interactive Brokers to win the hearts of the beginners.

Interactive Brokers Review: Learn Trading with Interactive Brokers
By far, the online Broker has been offering the following services to the beginners:
1) Seamless connection with any electronic exchange on an international scale, which makes the following very easy for the beginners:
Trading of equities 

Trading of options

Trading of Futures
2) Interactive Brokers offers the trading service round the clock on an international level, just to make the trading journey of the beginners much easier.
3) Moreover, the beginners get to enjoy flexible trading as Interactive Brokers offers its services throughout all the desktop computers and mobile platforms.
4) The online Broker is constantly coming up with the latest trading tools to attract beginners to its platform. It is introducing things like- robo-advisory services to make the trading experiences much seamless for the beginners.
With all the above cool and very helpful trading tools and services, the platform remains still quite sophisticated for the beginners to start with. Therefore, despite the fact that there is a good range of trading tools at Interactive Brokers, a trading beginner can feel quite intimidated by the endless technical details. Our suggestion for the beginners would be to test waters on some beginner-friendly platforms before committing to the trading industry on sophisticated platforms like- Interactive Brokers.
Interactive Brokers is rather more suitable for frequent traders with its trading tools variety that includes – commission-free offering- IBKR Lite, robo-advisory service with low-costs, order types, global assets classes, trading algorithms, and so on.
Intermediate traders may try Interactive Brokers', IBKR Lite: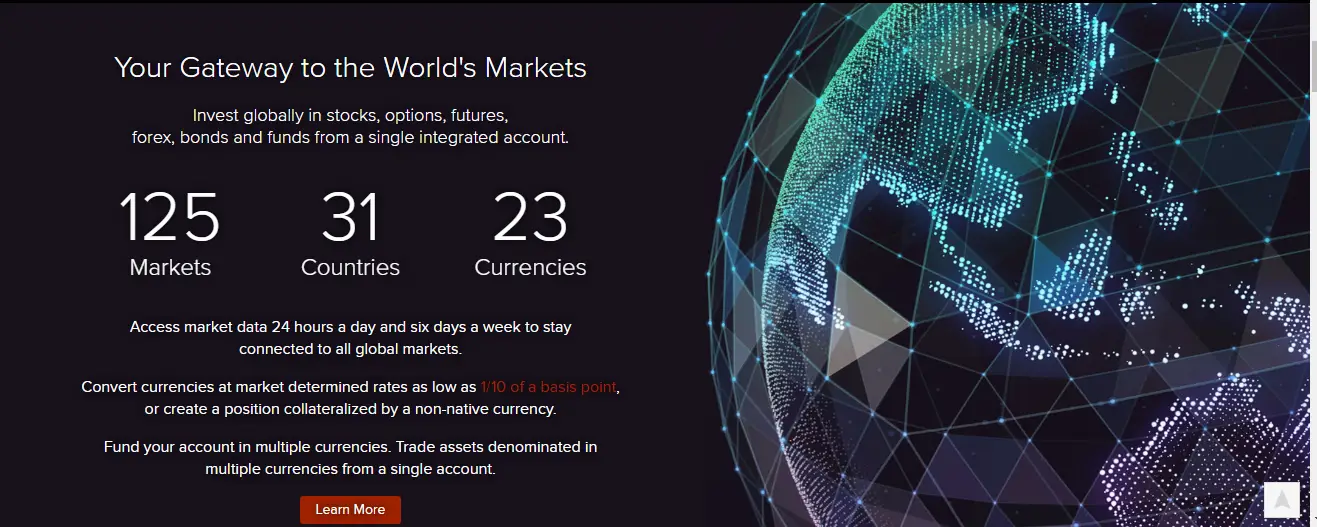 Interactive Brokers Review: Interactive Broker is Gateway to World
IBKR Lite is a commission-free program which is offered by Interactive Brokers. It was launched in October last year. It is a service that enables Interactive Brokers traders to enjoy:
Unlimited trading

Commission-free trading

Interactive Brokers low prices on its various products

The traders can only use IBKE Lite on the US listed stocks and ETFs.
Although it's a great service, it comes with brand based compulsions. The clients can only get to enjoy the perks of IBKR only if they use:
IBKR clients are limited to the Interactive Broker's mobile apps and/ or Interactive Broker's web platforms.

Interactive Brokers do not charge any base fee for the options contracts.

Although the infrequent traders will need to pay 0.70 U.S. Dollars per contract.
For clients who are looking to use the analytical tools on TWS (Traders' Workstation), they would require to go back to the regular Interactive Brokers account. This switching back would also subject the clients to the regular commission charged by Interactive Brokers. Although the usual commission charges are quite low and are usually, things such as price improvements take care of them.
Interactive Brokers' Commission and Fees:
Interactive Brokers is ranked #1 when it comes to commissions and fees charged on this broker platform.  Overall there are two main pricing plans on Interactive Brokers, they are:
IBKR Pro for the professional and active traders and 

IBKR Lite for casual investors and traders
Why Interactive Brokers charge such low fees?
Low fees, along with being a very attractive way to seek more clients to the broker platform, there is another reason behind why Interactive Broker charges low fees. Well, if we look closely, the main clientele of Interactive Brokers is the professional traders and institutional investors segment. Therefore, it comes becomes quite important for Interactive Brokers to offer the lowest commissions possible.

Interactive Brokers Review: Lowest Commissions Cost of Interactive Brokers
Types and fees for various trades available on Interactive Brokers: 
Interactive Traders offer a variety of trades to suit all the needs of their clientele. Following is a quick run-through to give you an idea:
1) IBKR Pro Stock Trades:
Interactive Brokers charges standard fixed pricing on the U.S. stock trades. It is 0.005 U.S. Dollars per share. I.T. comes with a minimum of 1 U.S. Dollars and a maximum of 0.5 percent of the value of the trade.
Here's a tricky part. Although IBRKR Pro Stock trades highly suit the small order sizes. But contrary to this, for many thousands of shares, the same becomes a costly affair. Therefore, it is not wise to use this for penny stocks, for instance.
2) IBKR Pro Options trades: 
Interactive Brokers charges a contract price, which is lesser than 0.10= 0.65 U.S. Dollars per contract. The minimum requirement is 1 U.S. Dollars. There is no maximum requirement for IBKR Pro Option traders. 
When it comes to contract prices, they are less than 0.10 U.S. Dollars. Market research reveals that they are usually 'greater than $.05 = $.50 per contract.' The minimum with IBKR Pro Option traders is 1 U.S. Dollars, and there is no maximum to it. The contracts price, on the other hand, is smaller than 0.05 U.S. Dollars= 0.25 U.S. Dollars per contract. The minimum is 1 U.S. Dollars, and there is no maximum to it. 
Other salient features of IBKR Pro Option traders are as follows:
There is no payment for order flow.

There is quality order execution offered.

Interactive Broker offers the industry's lowest margin rates. They usually vary between 3.05 percent to 2.05 percent. 

Please Note:

These low margin rates are applicable only to the traders and investors who have a brokerage that exceeds more than 1 million brokerages.
3) IBKR Pro Misc Fees:
Interactive Brokers charge miscellaneous fees for beginners and casual investors. There also some minimum charges charged under this category. Any user who is not maintaining 100K U.S. Dollars balance or spending a minimum of 30 U.S. Dollars in commissions on a monthly basis, will be charged as per IBKR Pro Misc Fees. Here is the crux of these charged:
Interactive Brokers charges 20 U.S Dollars on a monthly basis for any non-active user/s as maintenance fees.
Investors seeking to tray out investing on a daily basis should rather try Interactive Brokers' IBKR Lite or look into discount brokers list offered by Interactive Brokers.
4) Interactive Brokers IBKR Lite:
First of all, Interactive Brokers does not charge any sort of fees when it comes to the interactive brokers IBKR Lite. It means there is no fee charged for inactivity for a long period of time or any kind of data fees. Here are other features of Interactive Brokers IBKR Lite:
Every U.S stock and ETF trades are priced- zero U.S Dollars

The IBKR Pro pricing is applicable to all the option trades.
It very well suits the needs of casual investors who are still exploring the trading and investment industry. With interactive brokers IBKR Lite, they make money through the order flow in the same manner as 0.0 U.S. Dollars brokers do.
The downside to the interactive brokers IBKR Lite is that it yields lower quality order executions.
What are the tiered plans on Interactive Brokers?
Interactive Brokers is famous for offering really low tiered plans for its clients. There are fixed-rate plans or tiered plans for the traders to choose from. These plans vary as per the trade volume.    
The fixed nature of these rate plans suits the occasional traders the best. Interactive Brokers offers 0.005 U.S. Dollars per share under its fixed-rate plan. The condition to avail this rate plan is to have a minimum 1 U.S. Dollars per trade.

Interactive Brokers does not charge any leg-fee for option trades from its clients.

Usually, the commission range oscillates between the maximum of 0.70 U.S. Dollars per contract to 0.15 U.S. Dollars per contract. The trade volume decides the commission rate.

In addition, the tiered structure decreases the trading costs for the active users of the broker platform. This structure allows them to consider the exchange rebate into their trading plans.

Interactive trade is also famous for offering the lowest margin rates. The traders at Interactive Brokers can borrow against assets. The reason for borrowing is not mandatory to be related to trading only.

Not only this, but Interactive Traders also pays 1.7 percent on idle cash, which is more than 10K U.S. Dollars.
Interactive Brokers Tools:
Interactive Brokers has earned a position in the top three online broker platforms when it comes to the quality and variety of trading tools it offers. It offers TWS (which stands for- Trader Workstation). It is basically a desktop-based platform that backs all kinds of trading variety out there. Please note that it is rather suitable for experienced traders. With its amazing trading support features, it is ranked as the best trading platform. Here are the exceptional tools it offers to the active investors and traders at Interactive Brokers:
Professional Tools variety:
You will find a plethora of tools that support an active client of Interactive Brokers. These tools include:
Algo trading

Options Strategy Lab 

Volatility Lab

Risk Navigator

Market Scanner 

Strategy Builder

Portfolio Builder, etc
Additionally, the watch list also offers equities to individual options contracts, futures, forex, warrants, and so on. Moreover, just to push the envelope further, Interactive Brokers offer an impressive 494 data points for column customization.
Interactive Brokers' IBot:

Interactive Broker Review: Interactive Brokers' IBot
Interactive Brokers offers IBot to its clients. This service easily adapts itself to TWS mobile platforms too. It basically is backed by artificial intelligence (AI). The AI technology renders quick service to the Interactive Brokers clients. It works through chat or voice in the iPhone app. It also supports other elements such as:
Portfolio information

Orders

Quotes. Etc
Interactive Brokers' Client Portal:
The Client Portal is basically designed for the less-experienced traders. This Portal can be easily accessed through Interactive Brokers' official website. The Client Portal offers all the main features that are required for trading and managing trading and investment portfolio on Interactive Brokers.
Interactive Brokers' Client Portal offers good trading exposure and experience to the IBKR Lite customers. It intends to offer easy to use features just to give an insight into the sophisticated Interactive Brokers platform and its workings.
Given it is a new feature, it will get improved over time in order to offer more robust features.
Interactive Brokers' Mobile Trading:

Interactive Brokers Review : Interactive Brokers' Mobile Trading
The mobile trading at Interactive Brokers stands in the top five mobile trading apps in the world. It is very well supported by all the mobile platforms whether it is android or iOS platforms. It is laced with features such as:
Ultra-fast streaming of data

Offers a robust full-featured order entry services

The clients are backed with its excellent portfolio management tools and intelligence

The traders can trade with

Interactive Brokers'

Mobile Trading on the go at any time of their comfort.

Interactive Brokers' Mobile trading Charting:

Interactive Brokers offers a robust charting service to its clients. It comes backed with more than 70 optional indicators with easy to make customizations settings. The only downside to Interactive Brokers' charting is that the panning option is not as effective as the new HTML5 charting applications. 
Please Note: The beginners may find it difficult to use. In addition, other elements such as stock and/or index comparisons are also not made available on the Interactive Brokers' Charting.
Are there any downsides to the Interactive Brokers' Mobile Trading?
The downside of the Interactive Brokers' Mobile Trading app is that the push notification option is not able to deliver the stock alerts for the clients. This is, of course, is a major drawback, as the user can't stay well informed, and therefore, the decisions of the user get compromised in away. These stock alerts are rather delivered via email. It is a very indirect way of prompting about stock alerts that taxes the clients many valuable and possible profits. It is actually very surprising that such an advanced platform like Interactive Brokers is not taking care of such a basic point.
Are there any downsides to Interactive Brokers?
Interactive Brokers is an exceptionally excellent trading platform. But as nothing is perfect, this platform too has its own imperfections. Here is the list of imperfections we found when we reviewed Interactive Brokers:
Interactive Brokers' Traders Workstation is a very useful tool. It comes with a lot of sophisticated uses that can really elevate the trading experience of any trader. But it can be, at times, quite overwhelming for the new users.

Market research reveals that th

ere is no support for education accounts (529s) or 401(k)s provided by Interactive Brokers.

Clients who are no more active on the online trading platform or those with very small accounts on Interactive Broker may face maintenance fees or charges for data maintenance.
Interactive Brokers' Traders Workstation and the trading technology:
Interactive Brokers offer a very wide access to the market to its clients. They can use Interactive Brokers' Traders Workstation to place big orders. The Traders Workstation backs the clients with in-built algorithm power. The TWS offers its clients the smartest order router in the entire world with its powerful algorithm engine.
It is very intuitive in nature. It senses even the slightest changes in the market conditions and re-routes the parts of the order/s that need an update to yield the most efficient order execution for the clients. Other benefits of Interactive Brokers' Traders Workstation ARE:
Maximum price improvement

Maximization of any possible rebate wherever applicable

Smart assessment of market changes and trends

Power to go into the hidden institutional order flows, aka dark pools. This brings the clients to execute large block orders.

The router is smart enough to execute the best orders and places for each and every part of multi-facet orders.

It offers the clients the freedom to pick the best route for rebates.

When it comes to the standard Interactive Brokers clients, the payment for any order flow is returned to the client.
Are there any Downsides to Interactive Brokers' TWS?
Well, yes, there are. Here are a few points that pull down the TWS feature of Interactive Brokers:
When a trader wants to uplift a stock to trade, due to the variety of securities to trade from, it can get quite tricky for the trader. This scenario can be quite overwhelming for beginners and the non-professional traders and investors alike. The choice itself can become daunting.

On the other hand, automated technical analysis tools are not available as a free tool. The user needs to pay for the subscription in order to use the automated technical analysis. This can be quite an expensive direction, especially for beginners to explore.
The latest development of Mid-price Order:
Interactive Brokers has recently released its latest order type, which is known as mid-rise order. The brilliance of this feature is that it allows the clients the freedom to route to many venues. They can also route to IEX.
Interactive Brokers' mid-rise order is also an intuitive one. It has the capability to tune to the latest trends in the markets. It very efficiently and quickly brings about fills and churns out great price improvements.
Please Note: The advanced order types feature can't be enjoyed by the Interactive Brokers IBKR Lite clients. They are only limited to Client Portal and IB's mobile apps. Secondly, the main focus of order router for the IBKR Lite clients is payment when it comes to order flow. This payment is not returned to the clients, unlike the clients using Interactive Brokers' Trade Workstations.
Investments at Interactive Brokers:
Interactive Brokers is famous for offering a very versatile set of investment offerings in the entire industry. It offers a good range of margins in various areas, which very well covers international trading too.
Interactive Brokers offers its clients to trade across more than 125 global markets, which spans across 31 countries on the globe.

Smart cash management at Interactive Brokers:

Interactive Brokers offers a rate of interest on any amount of portfolio cash that is either 10K U.S Dollars or exceeds it. The rate is not fixed, and it rather changes based on the balance in the client's account. The rate of interest is directly proportionate to the amount of balance in one's account.  The Smart cash management at Interactive Brokers is a great benefiting feature for all those clients having large sums of balance in their accounts.

Foreign Exchange at Interactive Brokers:

This feature is only available to the 'Eligible Contract Participant'. Interactive Brokers decides which Client falls under this category. Forex, otherwise, is not freely available to all the users from the United States. Market research reveals that any individual or any organization that has assets that exceed more than 10 million U.S. Dollars will be entitled to fall under the 'Eligible Contract Participant' category.
Our final verdict:
Interactive Brokers is a great online trading platform. It has established its name with excellent attractions such as- low pricing, Client Portal commission-free IBKR Lite trading; it is a truly versatile trading platform as it offers its clients to trade in more than 120 markets in 31 countries and can trade in 23 different currencies, Interactive Brokers Traders' Workstation, and so on. With its industry-leading commission rates for pro traders, more than 60 optional order types that span over 125 global markets, this online trading broker is definitely a robust choice to rely upon! 
The founder of Interactive Brokers- Thomas Peterffy, who is well known as 'an early innovator in computer-assisted trading', has really done a great job that is serving millions of traders and investors around the world to manifest their trading dreams. After thoroughly reviewing the online broker platform, here is a big thumbs-up from our side for Interactive Brokers and good luck for all of its future endeavors.
Interactive Brokers
Pros
Interactive Brokers has an industry-driving commissions plan,
Interactive Brokers offers an extensive selection of investment choices.
Interactive Brokers offers low margin rates for margin investors.
Interactive Brokers provides BlackBerry App for its BlackBerry clients.
It offers a Free Trial Account for its clients.
Cons
Interactive Brokers fails to meet expectations in the areas of market research, usability, and education for beginners.
Interactive Brokers' margin requirements for Intraday are not good, compared to other Indian discount brokers.
Interactive Brokers has an inactivity charge of Rs.200 per month for Indian customers.