There are debates on how good the NSBroker's features are, on how its platform can meet the demand of the new generation of traders, on whether NSBroker is truly a reliable broker or just a scam like many out there. In this review, we will leave no stone unturned so you can have the whole picture of NSBroker.
What is NSBroker All about? Know by NSBroker Review
NSBroker is a CFDs & Forex broker brand, owned by a fintech company named NSFX Ltd. This brokerage company was founded by a group of financial and IT experts with the purpose to redefine the online trading industry. Until now, NSBroker has been in the business for 9 years and attracted more than 300,000 active users.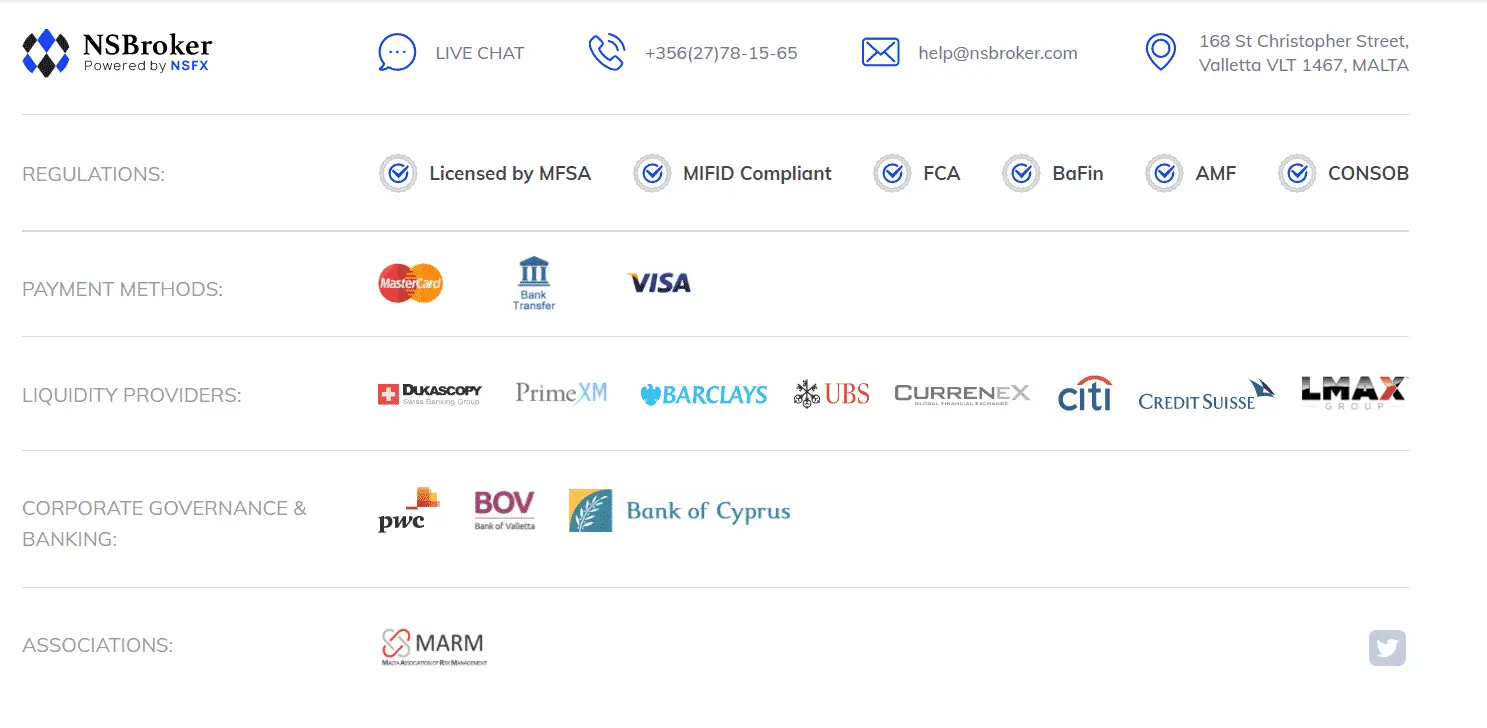 Why Is NSBroker Such A Big Name?
The very first impression of NSBroker must be its popularity. Not only is it reflected in the number of customers but it is also proved by the diversity of the customer segments. 
Unlike other brokers, NSBroker does not classify the users by their money and give them the corresponding privileges. Instead, they create an equal trading environment with a wide range of support tools, from which the traders can freely choose as long as these tools work best for them, their budget and their strategies. 
Thanks to this approach, NSBroker gains a lot of loyal users. You may now think: So what are these tools and how NSBroker applies them? Let's figure out in the next sections.
NSBroker Academy:
Education is not among the missions that NSBroker's founders are heading to but in fact, they have done tons of work in this area. The education centre is the clearest evidence for the aforementioned popularity of NSBroker. 
Here, users can access various trading materials from the most basic to the most advanced ones. While newbies can learn FX 101 via glossary, ebooks or video lessons, the more experienced ones can update their knowledge with new strategies or read technical analyses for the upcoming market movements.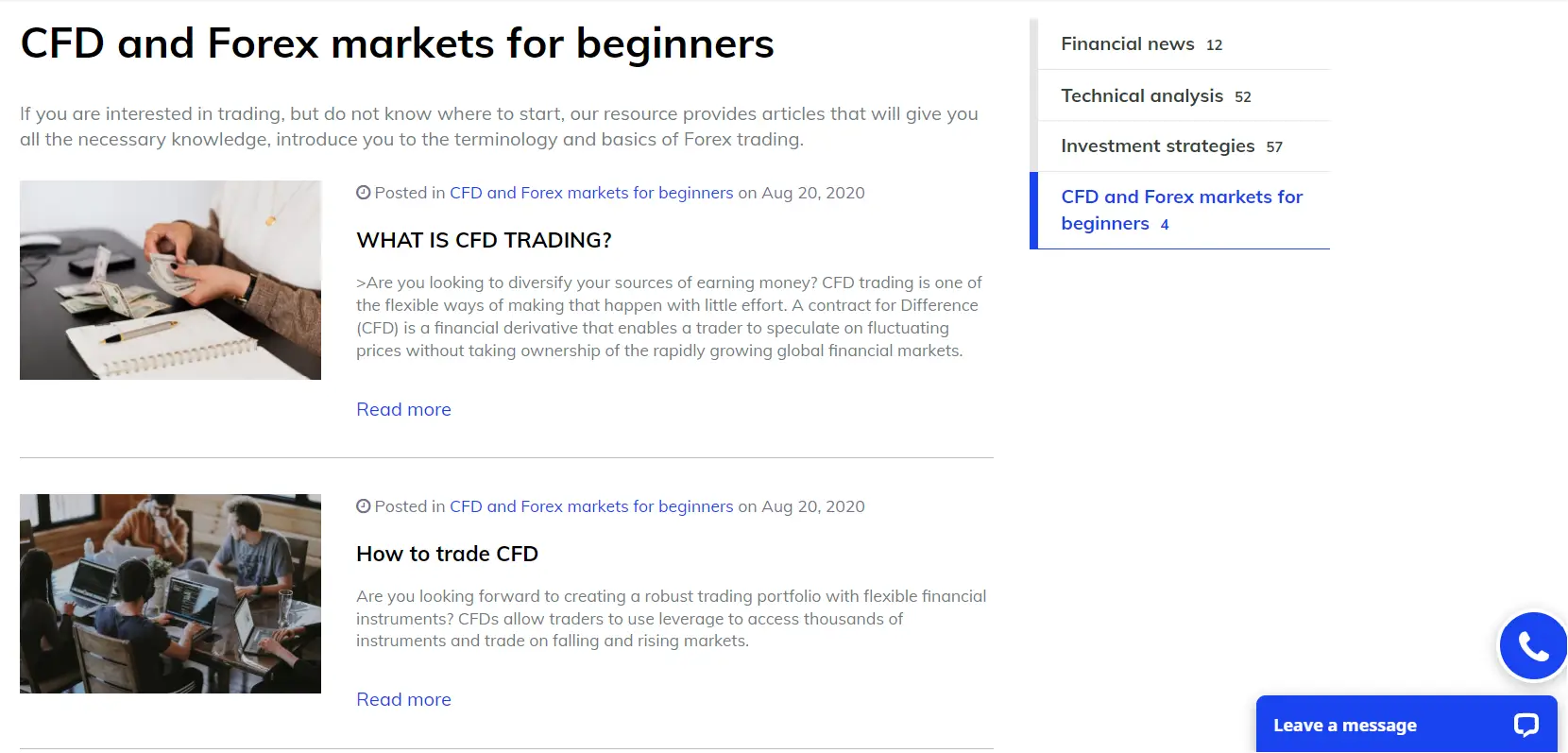 The key idea of this education-centric approach is that NSBroker plays the role of a guide or a companion rather than just a business partner. As such, clients can see their improvements over time and want to commit to the broker for a long term regardless of their abilities or experience. 
Additionally, considering that knowledge is a factor making the success of a trading career besides psychology, a good academy is the first sign of a decent broker.
Customer Support:
Do you have questions about NSBroker's policies, trading conditions or you get stuck with some problems during your trading time? It's time to seek help from the support team. 
NSBroker has well-trained support staff, who can answer in various languages such as English, Maltese or German. You can contact them directly via hotlines or hit the live chat button on the website.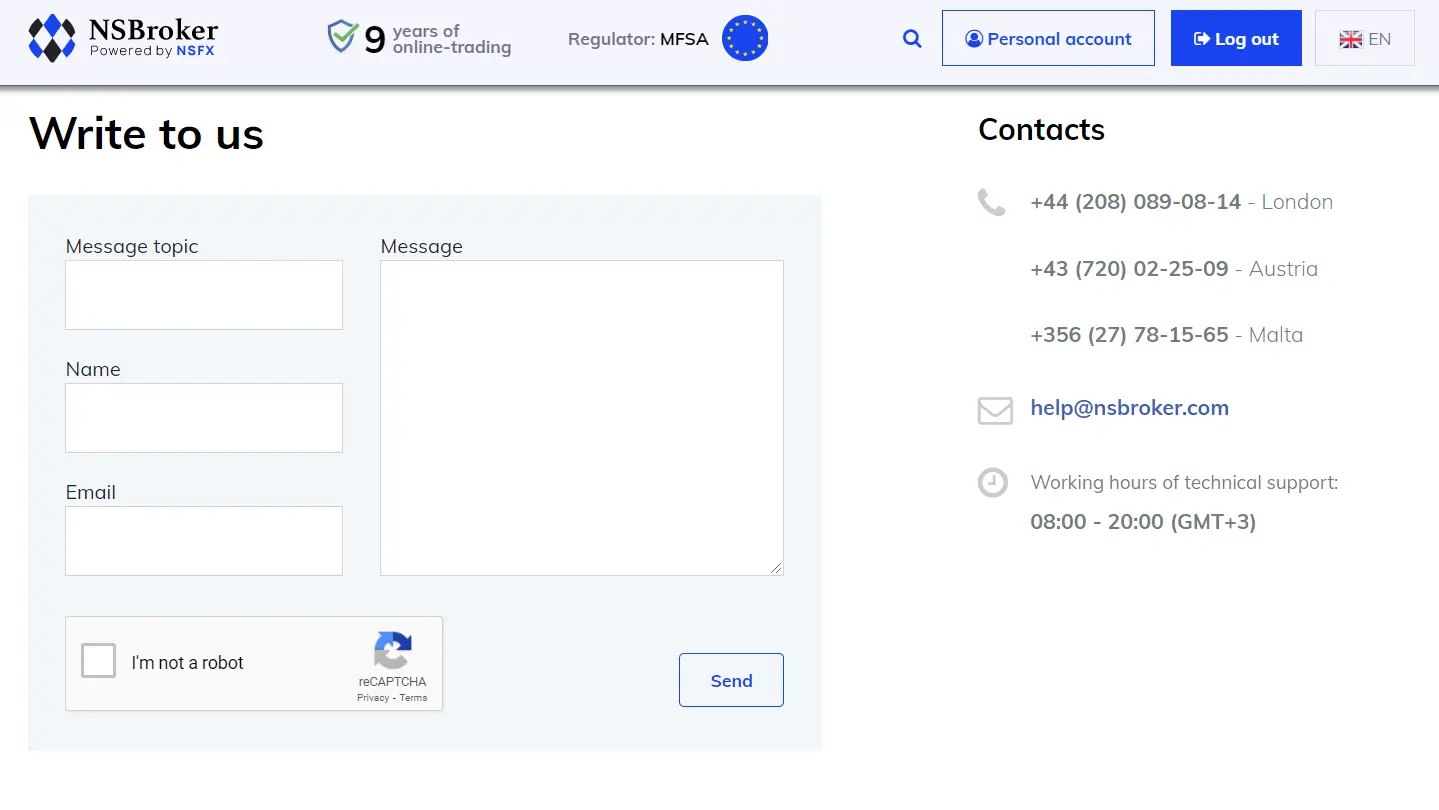 The technical support hour is 08:00 – 20:00 (GMT+3). Therefore, if you have any questions out of that time, you can leave your messages at the NSBroker mailbox: help@nsbroker.com. 
Wow, NSBroker Offers Exciting Features, But Is It Safe?
I'm sure this question is repeated in every broker review. The answer here is Yes. NSFX Ltd's targets are the global market. To do that, they have managed to get licensed by many regulators from both government and self-organisation sectors. 
At Malta: License No. IS/56519 by MFSA

At the United Kingdom: License No. 595195 by MFSA

At Germany: License No. 131055 by BaFin

At France: License No. 74397 by ACP

At Spain: License No. 3354 by CNMV

At Denmark: License No. 9221 FINANSTILSYNET
This is a win-win move. For NSFX, they can offer their trading services legally and for the traders, they are protected by many administrators in many countries.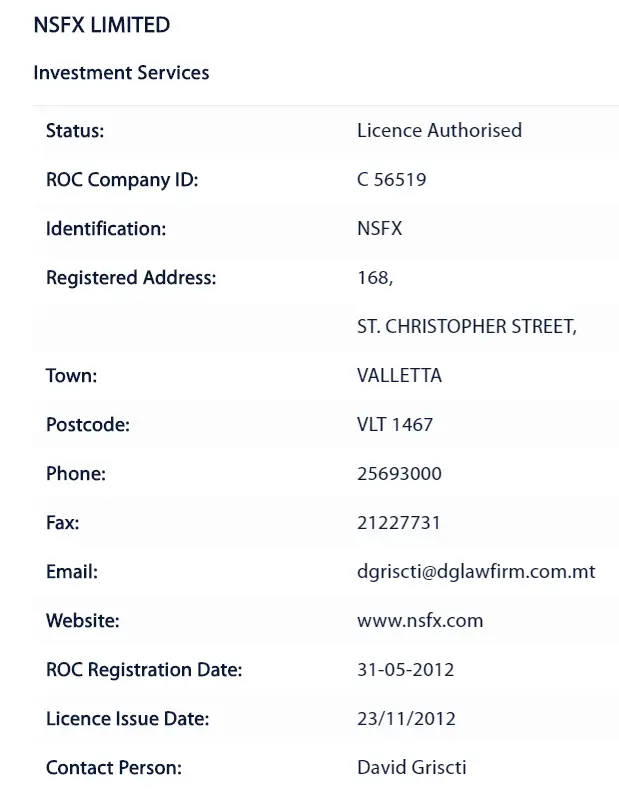 In terms of the safety of funds, NSBroker has strict policies to secure the client's funds and ensure transparency. 
The first thing is the segregation of funds, according to which, the money of clients is separated from the money of the broker by keeping in different accounts. As a result, NSBroker can't use client's money for other purposes.

Second, all trades are set with negative balance protection. When your balance hits zero, all trades are cancelled so you won't get into debt. 

And third, NSBroker has a backed-up plan for clients in case it becomes insolvent. This brokerage company has been contributing to an Investor Compensation Scheme hosted by MFSA. This insurance form can reimburse the eligible clients with up to €20,000 if NSBroker gets bankrupted.
Additionally, NSBroker also publishes a complaint procedure to solve emerging conflicts of interest. Everything is set up as clearest as possible in compliance with the regulations of MFSA and other jurisdictions. 
Now, Tell Me About Instruments That NSBroker Offers?
Okay, let's get down to the real business. 60+ is the number of trading instruments that NSBroker offers, which are made up of 5 financial markets: 
Forex: In this biggest financial market, clients can trade 40 currencies pairs from the major, minor to the exotic pairs. 

Precious metals: 2021 is the ideal time to speculate on safe-haven assets like gold or silver. 

Energy carriers: If trading energies is your strength then NSBroker can meet your needs with Brent and WTI crude oils.

Indices: Instead of spending hours and hours on investigating financial reports of a single company before buying its shares, you will have chances to predict the whole industry by trading indices like UK100 or JPN225 at NSBroker.

Cryptocurrencies: Challenge yourself with this emerging market. Bitcoin, Ethereum and other coins are not just the future of finance but also the future of the global value chain.
Various instruments guarantee the most diverse trading experience. You have many markets to study and many treasures waiting to be exploited.
NSBroker's Charges Based On The Instrument Type:
At NSBroker, traders have to pay 2 kinds of fees for each trade, which are spread and commission, respectively. 
The former is the gap between the bid price and ask price. The level of the spread heavily relies upon the liquidity of each asset. To be specific, EUR/USD is the most traded currency pair, many people want to buy and sell this pair, making it easier to find the counter side for trades. Therefore, the spreads for these major pairs like that are normally low. In contrast, an exotic pair like USD/ZAR witnesses higher spreads since this pair has a much lower trading volume making it harder to fill the trade. 
The spreads also depend on the current market situation. A volatile market with unbalancing demand-supply will widen the spreads. For these reasons, every trader wants the spreads to be as low as possible. To meet this, NSBroker partners with various liquidity providers including major banks and other financial institutions; thanks to that, this broker can offer the spreads from just 0.3 pips and maintain their stability even in the volatile time.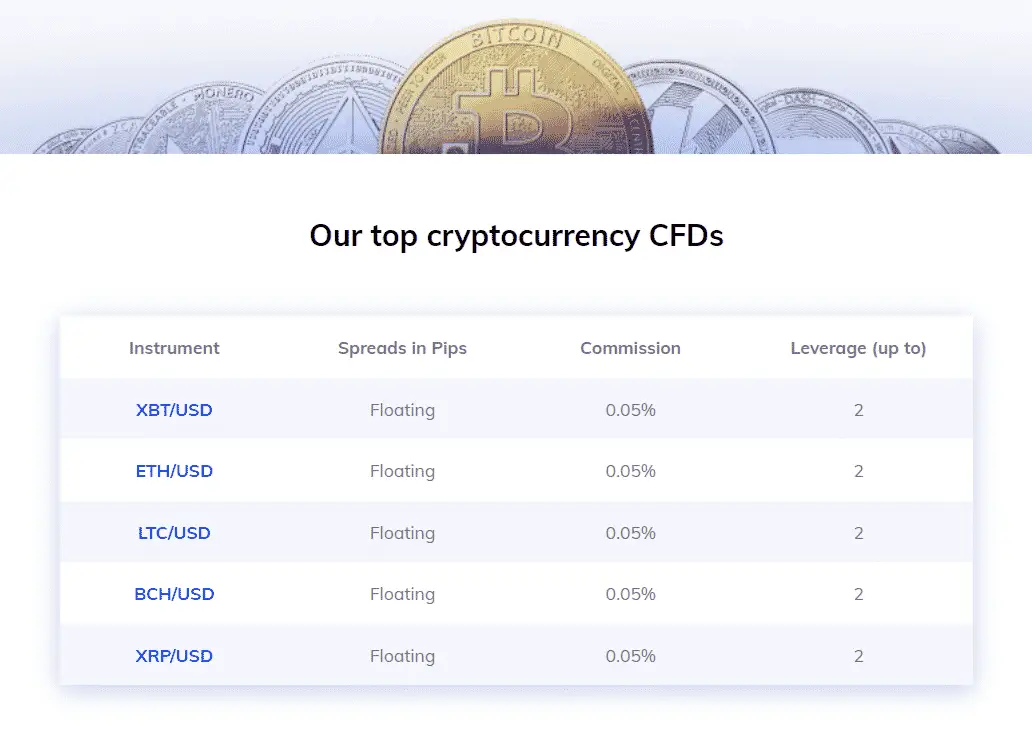 Regarding the commissions, NSBroker charges a fixed fee of $8 per lot for classic instruments like forex, metals, indices and energies. The commission fee for trading crypto is calculated by volume with a rate of 0.05%. 
Low fees put your opening trades closer to the winning side, thus, they improve the profitable chance. 
Margin At NSBroker
Margin trading is a significant advantage of CFDs. It allows investors to trade and generate profits from assets without having to deposit the whole value of them. Let's take trading crypto as a typical example, to purchase a single Bitcoin, you need a capital of roughly $11,000. With the margin requirement of 50% or the leverage of 1:2, you just need half of that $11,000 or just $5,500. Therefore, the margin is a core element of CFDs trading, making it an affordable investment for the populace.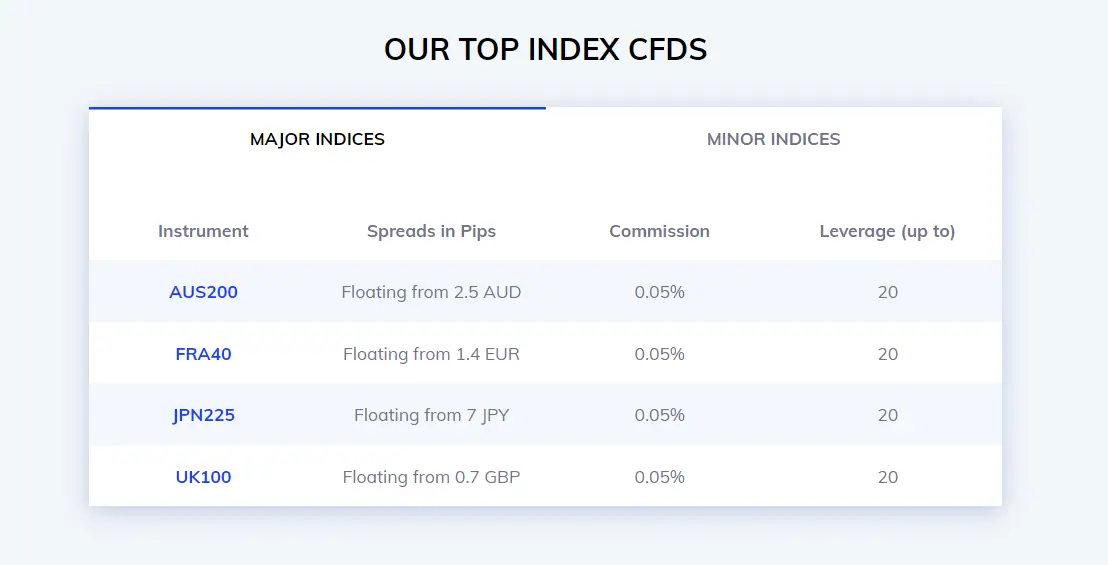 NSBroker applies a different margin for each financial instrument and each underlying asset. Normally, the asset posing higher liquidity also has higher leverage. Here are the typical margins clients can get for each instrument:
Forex: clients can get 30 times margin for the

major pairs

and 20 times margin for the

minor

and

exotic pairs

. Professional clients are offered 100 times margin.

Precious metals: up to 20 times margin for

gold

, up to 10 times for

silver

.

Indices: up to 20 times margin for

both major and minor indices

.

Energy carriers: up to 10 times margin for

both WTI and Brent crude oils

.

Crypto: up to 2 times for

all coins

.
NSBroker's Trading Platform
NSBroker uses MetaTrader 5 (MT5) as the main and only trading platform for all devices. You can download the desktop version setup with NSFX or get the application on your cell phone and log in to the dedicated servers. 
Another reason why MT5 is the choice of NSBroker is that this platform can be integrated with various financial markets rather than just forex. 
With the automatic features of MT5 like trading signals or expert advisors, your trading is easier than ever. For instance, if you are a new trader who lacks trading experience, you can follow the trading signals of the senior ones of the NSBroker. 
On the other hand, if you are a professional trader and know about programming, you can try creating your expert advisor. The support of automated tools like it can save your valuable time on analysing the charts. Please keep in mind that trading too much can't get you wealthy, all of the advanced tools are created to do just a single job – to give you more free time, so try to make use of them.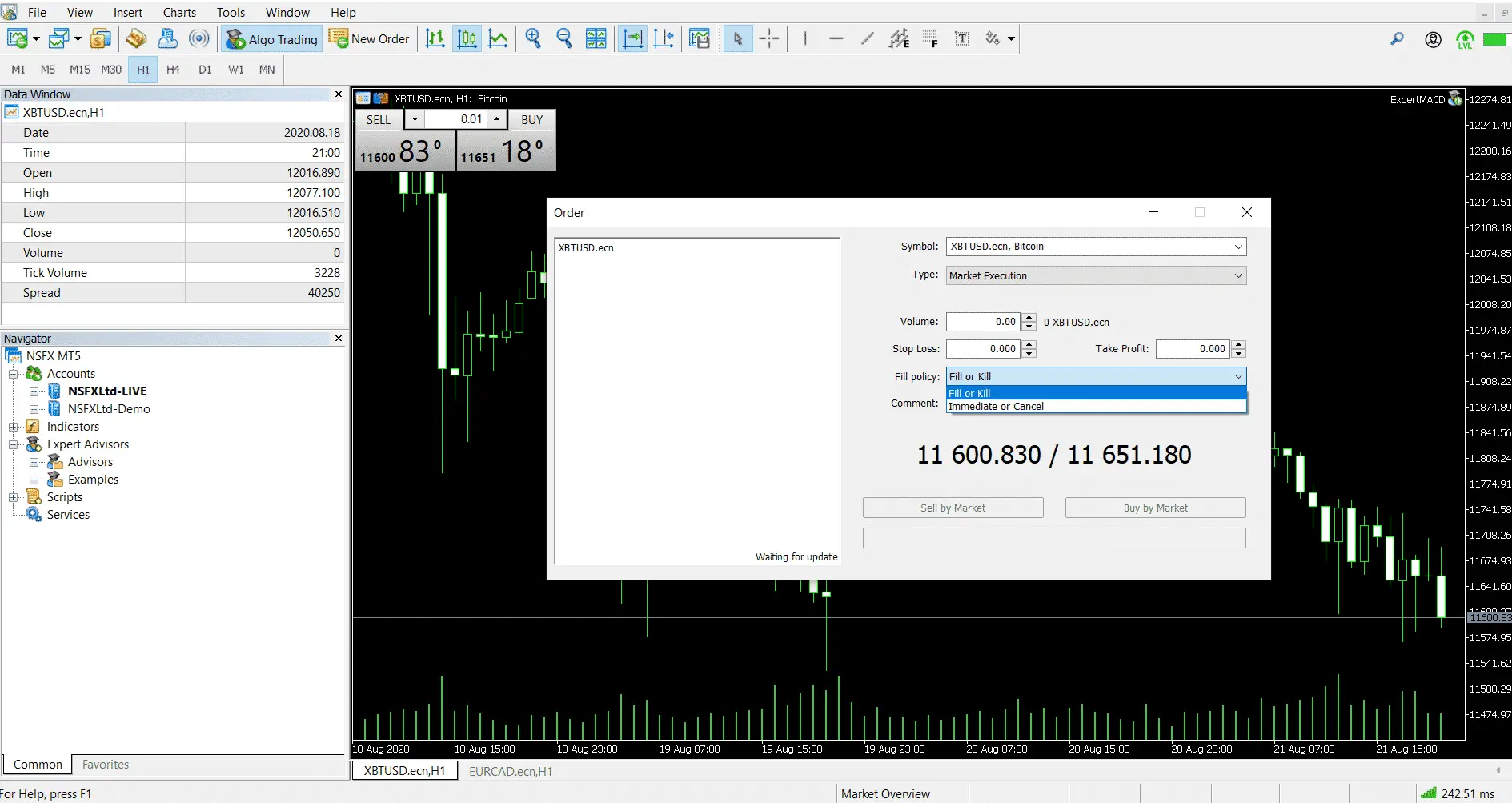 Apart from the technology, MT5 also allows you to choose the filling policy besides the execution rules set by the broker. To be specific, for market execution orders, you can choose either 'fill or kill' or 'immediate or cancel'. 
Fill or kill: Each long or short position comes with a specific volume. If the corresponding amount on the market is currently insufficient then the order cannot be executed. You need to make different orders with different volumes and rates. 

Immediate or cancel: Your order is executed with the maximal amount that is available on the market. The rest of the trading volume is cancelled.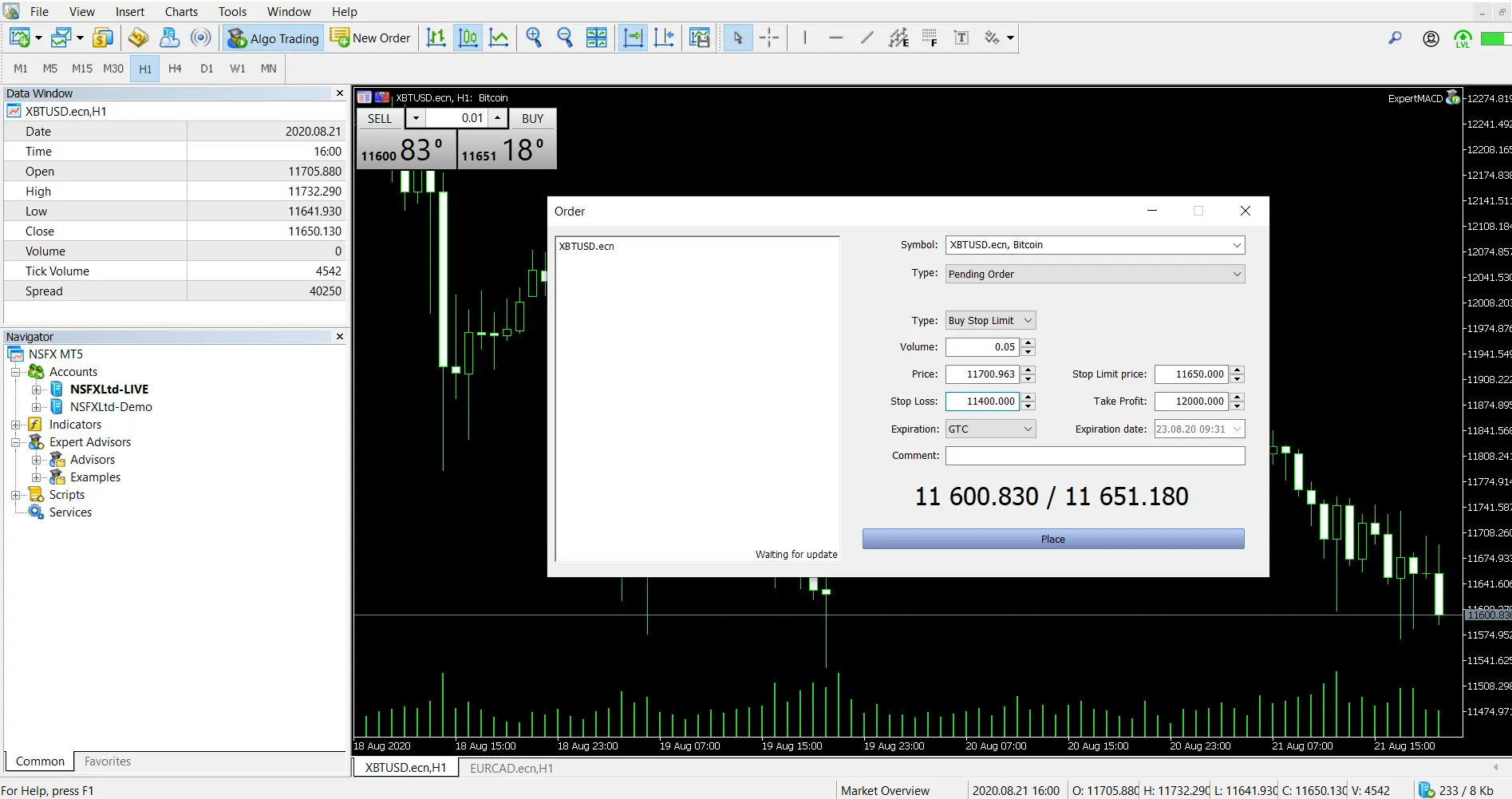 MT5 also enhances your trading experience by giving 2 more options for the pending orders set, namely Buy Stop Limit and Sell Stop Limit. Unlike the original 4 pending orders which have only 1 milestone of price, the new 2 orders have 2 parameters needed to be set.
Buy Stop Limit: When the Ask Price reaches the price set in the 'Price' field, it will activate a Buy Limit order (The buy limit is set in the 'Stop Limit price' field). The value in the 'Price' field has to be above the present Ask price while the 'Stop Limit price' has to be below that level.

Sell Stop Limit: When the Bid Price falls to the price set in the 'Price' field, it will activate a Sell Limit order (The sell limit is set in the 'Stop Limit price' field). The value in the 'Price' field has to be below the present Bid price while the 'Stop Limit price' has to be above that level.  
What Are The Account Types At NSBroker?
Once again, NSBroker delivers the popularity trait in the number of account types. Clients have only one choice regardless of their capabilities or capitals. All traders at NSBroker can access ECN environments to make their deals. 
Here are several benefits you can receive at this account:
Real pricing

: In a typical account, you don't have the original prices but the marked-up ones. Your broker is the second market maker who can adjust the prices so it often results in higher spreads. As opposed to this approach, NSBroker plays the role of a pure intermediary who just delivers your trading positions. 

Lightning execution

: Your trades are routed directly to the interbank market, making it be filled much faster than in the normal condition.
In general, the biggest advantage this ECN account can bring to you is initiative. You don't have to depend too much on your broker and this also means it's more difficult for them to interfere with your trade results. 
And don't forget that NSBroker also provides a free and unlimited practice account for all clients. You can create one for yourself on the Personal Account section.
This account is also powered by the ECN environment and the same conditions as the real account. As its name has already indicated the role of this account, this is the risk-free environment to practice trading skills or to test new tactics. You can use your practice account on both PC desktop version or your mobile after logging in the NSFX Ltd. Demo server.
Besides, using the practice account is also a way to get to know your broker's trading conditions and fees. As such, if you are thinking about becoming a new client at NSBroker, you can always create a practice account priorly and explore all features on your own before making the final decision.
How To Open An Account With NSBroker?
It's understandable if you want to give a try after reading all of these above analyses. Then no worry since this is the easiest step, you just need click Open an Account on the top right of the website. 
There is a typical application form appearing. All you need is filling it with your basic information and tap Registration. The broker will ask you to provide specific documents to validate your identity.   
What Are The Required Documents?
There are 3 types of documents that you need to upload to finalise the registration. 
Proof of ID: It can either be your ID, passport or driver license.

Proof of Residence: You can choose between the bank, credit card statement or utility bills. The purpose of this is to confirm your location so these documents must be in the most recent 6 months.

Credit cards: This is optional. You need to scan it if the credit card is your desired payment method.

Please note that your documents must be visible with all 4 corners and information within.
How Much Time Does It Take To Open A New Account At NSBroker?
NSBroker never lets you wait for too long, especially in this market requiring fast and decisive.
You need no more than

10 minutes

to complete both filling the application form and uploading verification documents

The verification step takes

24 hours

in maximum. Typically, if you open your account in the working hour, it just takes a few hours.
Deposit & Withdrawal
After finishing registration, you need to make your first deposit to trade. NSBroker accepts payments via credit card or bank transfer. All transactions are free of charge and processed from instant to only 2 days in maximum.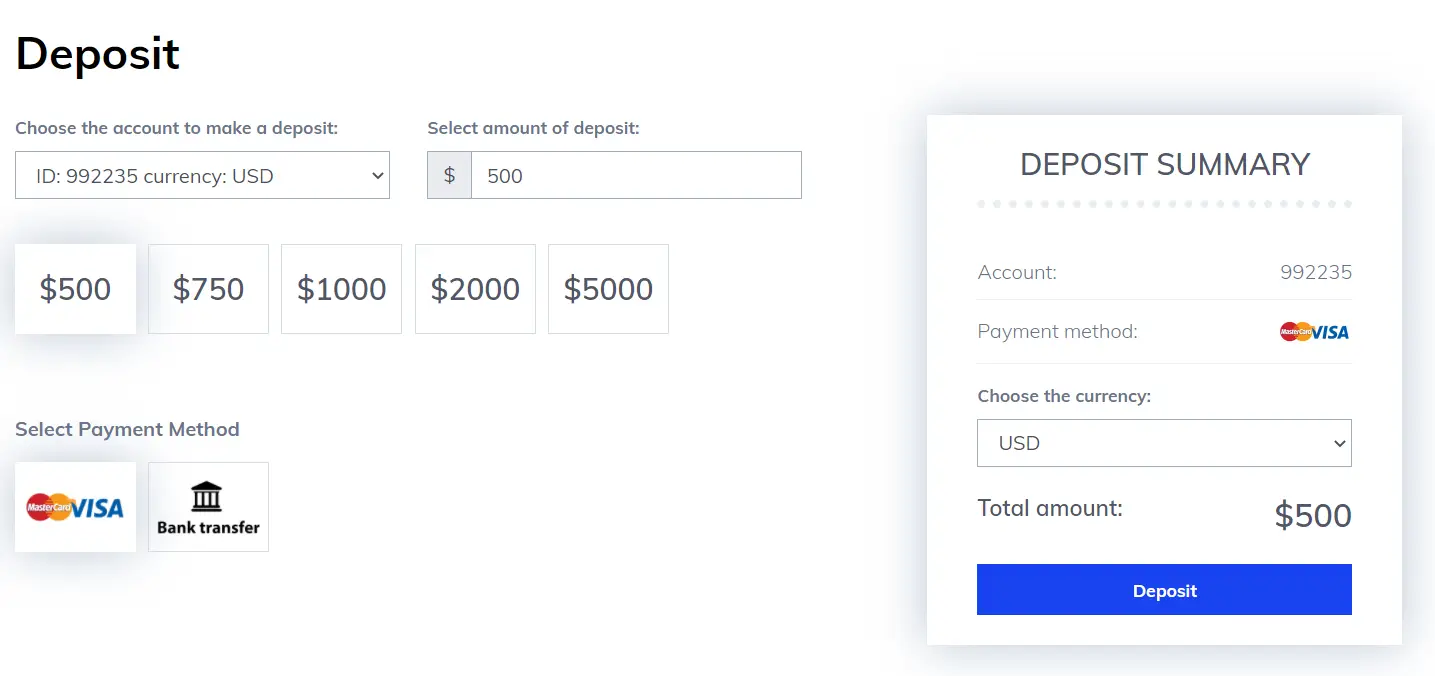 The broker asks at least $500 of the initial deposit. This amount is not a low number since some brokers require only $1 to open an account. Nonetheless, you should bear in mind that although trading CFD is an affordable investment, traders should have a certain level of capital to facilitate their trades. 
For example, it's always easier to make $10 from $100 of capital (10% return) than make that $10 from only $1 (1000% return).   
Facts Revealed:
I have surveyed to evaluate the satisfaction level of NSBroker clients. The study shows that: 
94% of new traders keep trading with NSBroker after 1 year using the service.

89% of experienced traders increase their profits from 70% to 90% after moving to NSBroker from the other companies. 

91% of clients are happy with NSBroker's services and trust this broker's policies. 
Conclusion:
NSBroker has successfully proved that a broker can be more than just an intermediate tool for investment. The broker builds a complete trading ecosystem from education, trading conditions, client support and platform based on firm policies, all of them are under the supervision of prestigious regulators. Therefore, this broker has gained hundreds of thousands of loyal clients and attracts more every day. For these reasons, you should give it a try, it's worth your time and your money.   
Areas Where NSBroker Can Improve:
NSBroker provides a comprehensive service with a full range of features but nobody is perfect and neither is NSBroker. There are still several things that NSBroker can improve to get more clients:
The margin is not too high. 1:100 is a proper ratio, yes, but the experienced traders may ask more, especially the day traders who likely make a lot of small trades during a day.

NSBroker already offers different kinds of the market but they should increase the number of the underlying assets. Though the most common ones are covered, traders are still always attracted by the number.