Binance Coin (BNB) had not started the year on a good note but later had managed to outsmart the bear pressure at regular intervals. The past week even saw a bullish momentum during the start of the week, but the bears got too strong by the end of the week. The price movements have been in the range between $22.08- $27.23 over the past seven days.
Binance Coin Price Analysis
BNB coin price has had a good start to the week, with the price being mostly in the upper range though the bear pressure got stronger towards the end of the week. The coin was trading at $27.2326 on February 13. Then, on the same day, Binance Coin's price went down to $24.7473 by an 8.91% drop. After registering this fall, the currency started trading upwards and reached $26.42 by a moderate hike of 6.97% on the next day. Then, the BNB price traded in a similar range for a while and then faced a steep fall. The coin touched $23.91 showing a downward variation of 9.35%.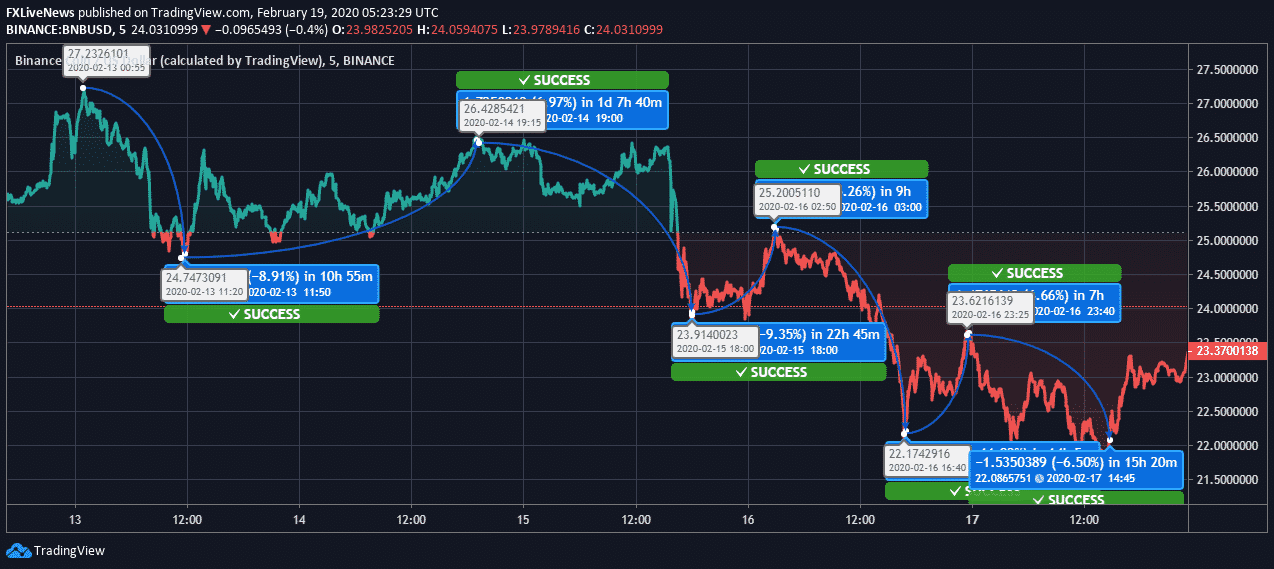 On February 16, Binance Coin's price marked a moderate recovery and reached $25.2005 by 5.26% hike. However, this was short-lived as the price again went down by a massive drop of 11.86% on the same day at $22.1742 but then, the currency again managed to recover and reached $23.6216 by 6.66%. On the next day, the BNB coin fell again and reached $22.086 by 6.50%.
At the time of writing this analysis, Binance Coin's price was trading at $23.3700 with moderate upside momentum. Analysts expect the coin to go for a bullish run during the year. Investors can continue to keep their existing investments as the BNB coin is expected to show great potential for the future.