EOS coin has been giving the bears a tough time and trying to push its price in the upward direction. The past one-month price trend for EOS has seen the price continually trying to maintain an upward momentum under strong bear pressure with the price trading in the range of $2.93 – $4.58.
EOS Price Analysis:
EOS price was below the baseline during the starting of the month, but with its consistent performance, the currency managed to move in the upward direction. The price of the EOS coin price was at a low of $2.9308 on January 11. The coin managed to have a hike to the tune of 35.38% at $3.9660. The bears continued to exert pressure on the coin price, and it fell to $3.3979 on January 24. With great effort, the coin managed to move in the upward direction and reached $4.3192 on January 30 by a massive hike of 27%.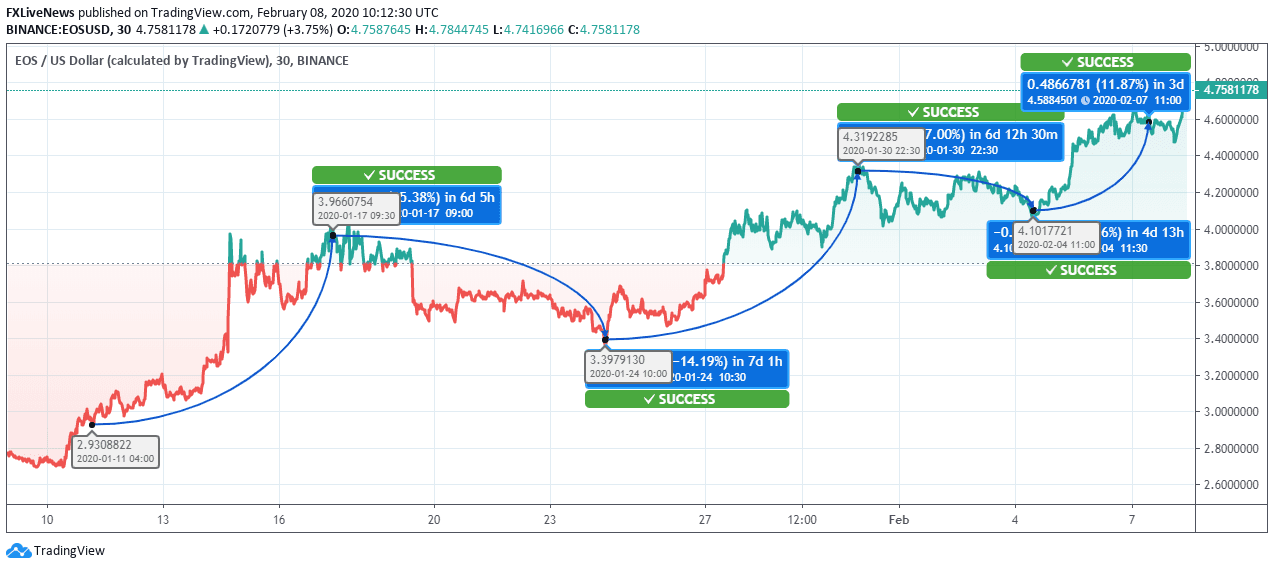 There was a slight fall in the price on February 04, and it reached $4.1017 showing a downward variation of 4.96%. On February 07, the currency again had a price rally and reached $4.5884, the upward movement is to the extent of 11.87%. At the time of writing, the EOS price touched at $4.7581 showing an upward movement of 3.70%.
The EOS price is having a good run from the starting of this new year. Current investors can add to their existing investments as the crypto market is expected to get better during the year. Day traders can make decent gains as the coin has been going on an upward momentum since last month.