Litecoin had started on a low note at the start of 2020 but put up a good performance after that. The price movement of the past one-day shows moderate volatility as it started the day on a high note, but the day ended with the price being pushed below the baseline. The one-day price trend showed the price of LTC moving in the range between $52 – $57.
Litecoin Price Analysis
Yesterday, LTC's price trend shows that the bears are still in good control over the price. The currency started at a high of $56.9975 at 03:17 UTC, and gradually, it started marking downside movement and fell to $55.75 at 14:02 UTC, showing a downward variation of 3.90%. Later, Litecoin faced a slight price hike and reached $55.33 at 15:31 UTC.
With the bears being in full swing in the market, the price of LTC again fell to $52.73 by 4.70% fall at 18:09 UTC. This did not deter Litecoin price from moving up though it was still trading below the baseline to $54.59. The bears have made their strong foothold today as the price has once again been pushed in the lower range to $52.66, the downslide being to the tune of 3.53%.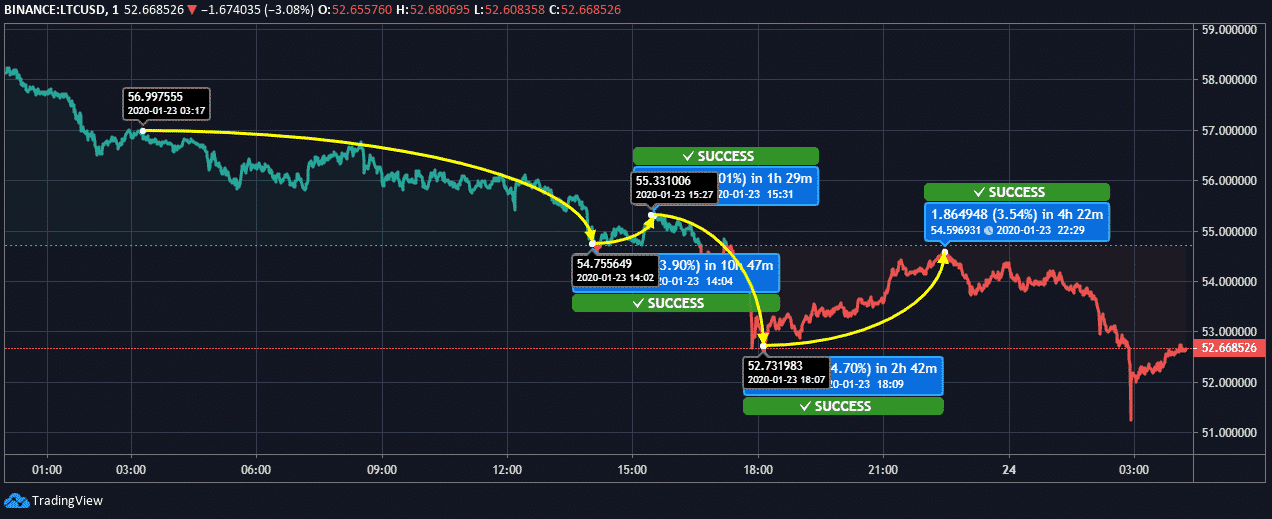 Litecoin price has managed to pull itself out of the bear pressure though the past one day saw the price sliding in the downward range by the end of the day. This is a short-term trend, as predicted by Analysts. Investors need not take such short-term fluctuations into account as LTC is a coin with great potential for the long term. Day traders and short-term investors can continue to trade but by applying a cautious outlook as the crypto market is still showing a lot of volatility.