Tron price has been on a continual downswing since the bears started controlling the crypto market in July. The price of TRX coin had a fairly good run before this phase. With the bear pressure mounting, the price of the coin has been mostly below the baseline, as seen from the YTD price movement. The price has been oscillating in the range of $0.0142 – $0.0365. Still, the TRX price is trying to go in for a slow recovery, but due to the bears exerting control, it is being delayed.
Tron Price Prediction:
TRX price has had its moment during the bull phase and has gone on a continual downward trend in the ongoing bearish market scenario. The YTD price trend shows that the price of Tron was at a low of $0.02111 on January 14. The price rose to a good 34.30% on January 27 at $0.028157. On March 25, the price fell to $0.02221 by 20.39% drop. On April 04, the price of TRX coin rose to $0.03089. There was a fall in price on May 12 at $0.02480.
The bull phase had crept into the crypto market by then, and TRX price rose accordingly to a great 47.64% on June 26 at $0.03656. With the onset of bear phase, the price started falling and reached $0.01421 by 61.68% drop on September 24. The TRX price then started getting back at the bears and has shown a rise to the tune of 51.44% on October 29 at $0.0215. The price has slightly fallen to $0.01698 at 20.93%.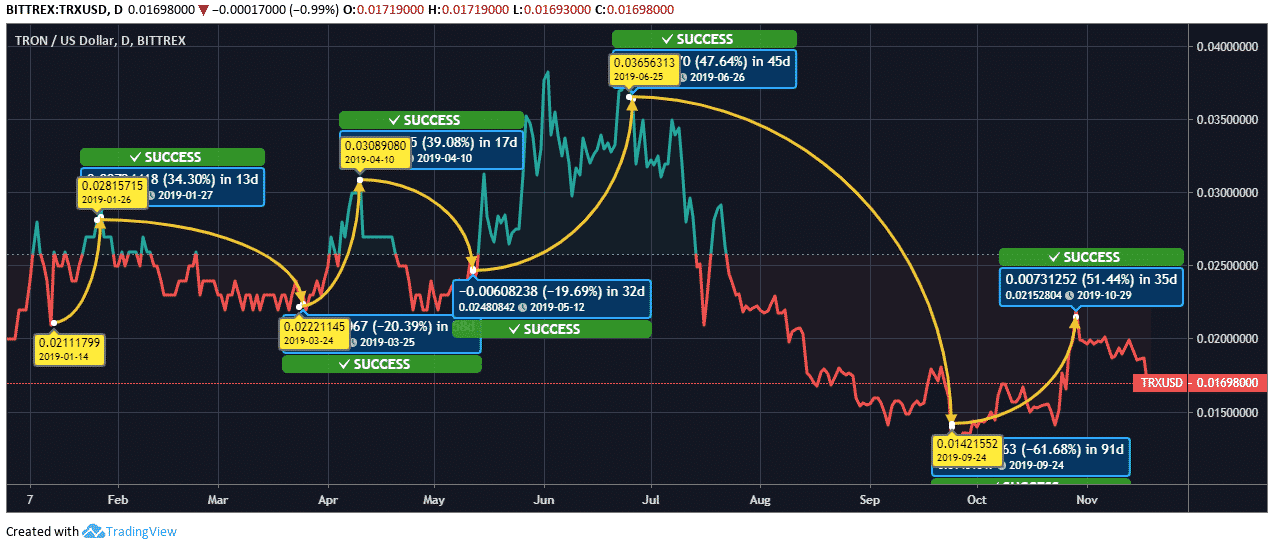 TRX price has gone through many ups and downs this year in the crypto market due to continual price variations. Even now, in the ongoing bearish momentum, the coin is trying for recovery, but with the bears pretty visible, it may not be possible for the short-term.