Tezos (XTZ) price is trying to get out of the bear stronghold since the beginning of the year 2020. Over the past 30 days, the price has been slowly moving in the upward range between $1.27 – $1.76 showing that XTZ has been gearing itself to fight the bear pressure.
Tezos Price Analysis
XTZ coin has been giving a good fight to the bears, as seen from the past 30 days' movement. The price of Tezos coin started on a high note at $1.7630 on December 28, 2019. However, the coin faced a massive fall of 27.92% on January 07, 2020. After this drop, the currency started to recover, and the price reached $1.5312 by 20.35% hike. Then on January 19, the currency price went down to $1.4013 by 8.57%. On the next day, Tezos coin marked a steep hike of 22.70% and the price reached $1.7223. In the next 4 days, the price again fell to $1.4755, showing a downward swing of 14.33%. Today, the price of XTZ coin has again managed to recover at $1.5403, recovery being at 4.38%.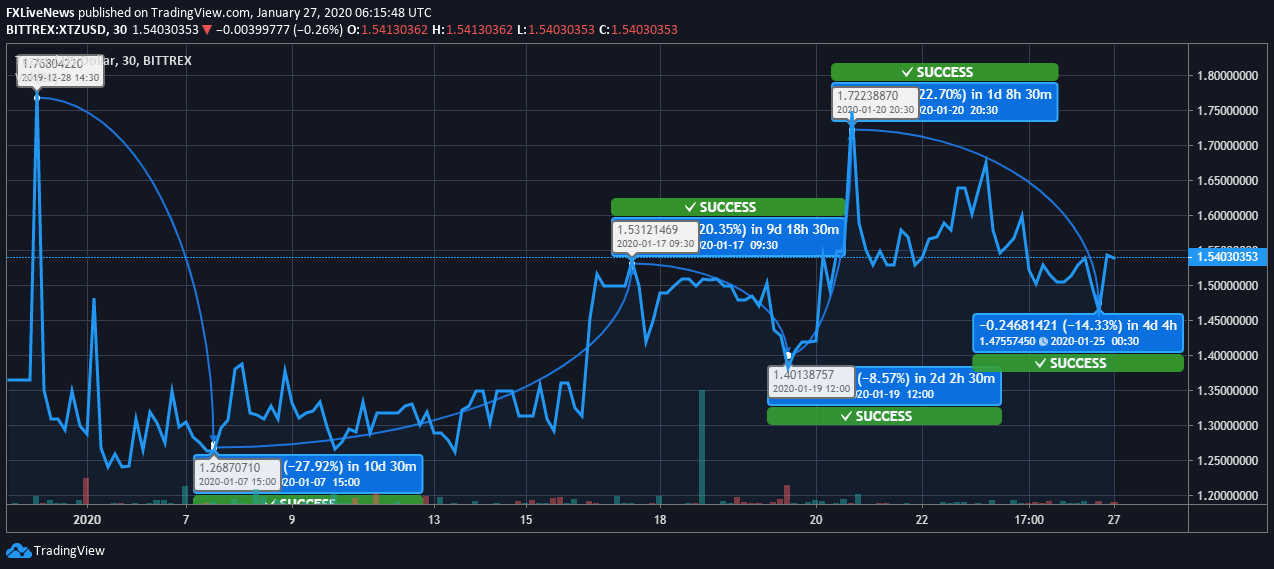 Tezos cryptocurrency has now shown a grit of pushing its price in the upward range over the past 30 days, even under continual bear pressure. Analysts expect the coin to prove its mettle during the year when the crypto market is expected to show more stability.
Current investors should continue to hold their investments from a long-term perspective. Day traders can continue to trade and make decent gains even under the current crypto market volatility.