EOS coin has been going through a lot of fluctuations in the ongoing bearish sentiment in the market. The currency was at a high then went below the baseline and now has slowly again moved in the upward direction over the past few days. The 3-month price chart indicates the price movements for the coin in the range between $2.42 – $3.91.
EOS Price Analysis
EOS coin was continually trading with huge volatility from the 3-month price trend. The price was trading at $3.6839 on November 05, 2019. It fell further to $2.4572 on November 25, 2019, showing a huge downward movement of 32.78%. Then on December 08, 2019, the price went up to $2.7633 by 12.19% hike.
With the bear pressure looming large over the currency, the price of EOS again fell to $2.4255 on January 02, 2020. The price of EOS is trying to get back to its stable upward momentum, as witnessed by the massive price upsurge to the extent of 61.23% on January 17, 2020, when it rallied to $3.91065.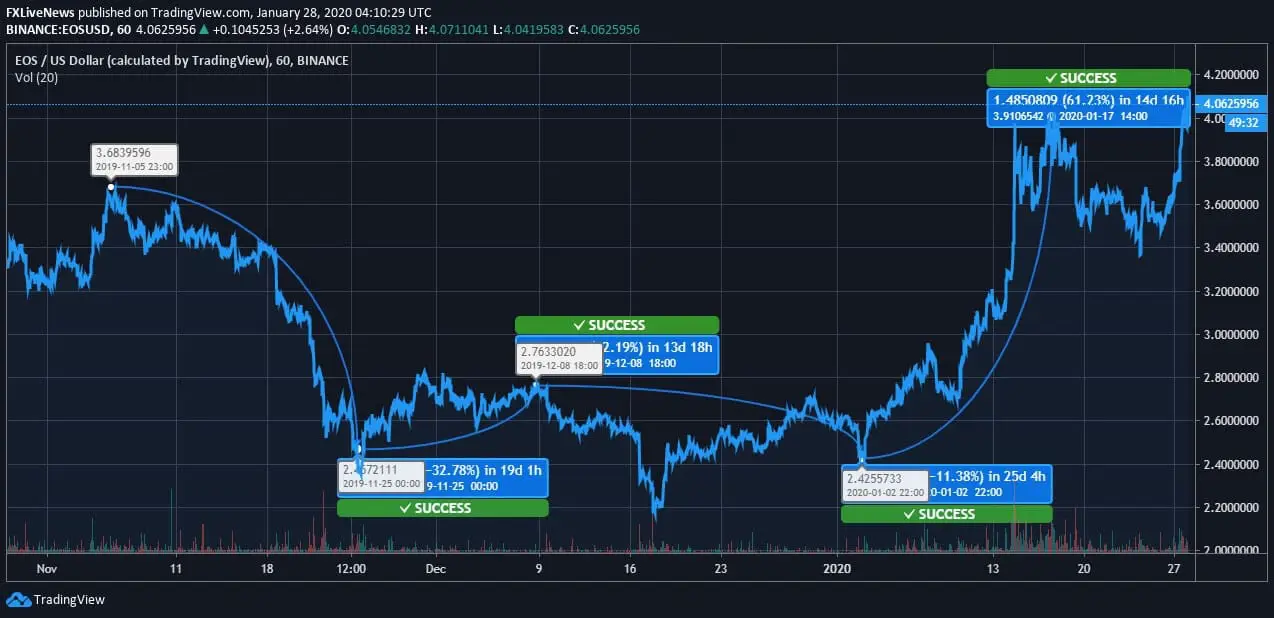 Today, at the time of writing, the coin was trading at $4.0625. It needs to be now seen whether the price of EOS will be able to maintain this upward momentum or reverse the trend in the upcoming days.
The EOS price has been trying to get out of the bear momentum. The past few days have brought some respite from the bear pressure. Analysts are expecting the currency to stabilize during the year and EOS price to follow suit and regain its stable upward momentum in the near-term. Investors can continue to hold on to their investments as EOS price is expected to stabilize during the year.