Today, most of the cryptocurrencies are struggling. However, there are still some coins in the market that are exhibiting an uptrend. Tezos is among the few coins that are booking profit from the last few days.
The currency is speculated to close the day with an amazing digit. The XTZ coin has registered an almost 3% hike in 24 hours. It is anticipated to give a colossal profit in the future.
Tezos Price Analysis
Yesterday, Tezos started trading at $1.92, and within the first 30 minutes, the currency dribbled to $1.86 by a 2.9% drop. In the next 4 hours, the coin was spotted marking a moderate hike of more than 4% and touched $1.95. Later, it slipped to $1.90 by 2.57% and then, the coin was locked at the same level for a while, but then, it reflected a moderate fluctuation. The price counter touched $1.94 then dropped to $1.90.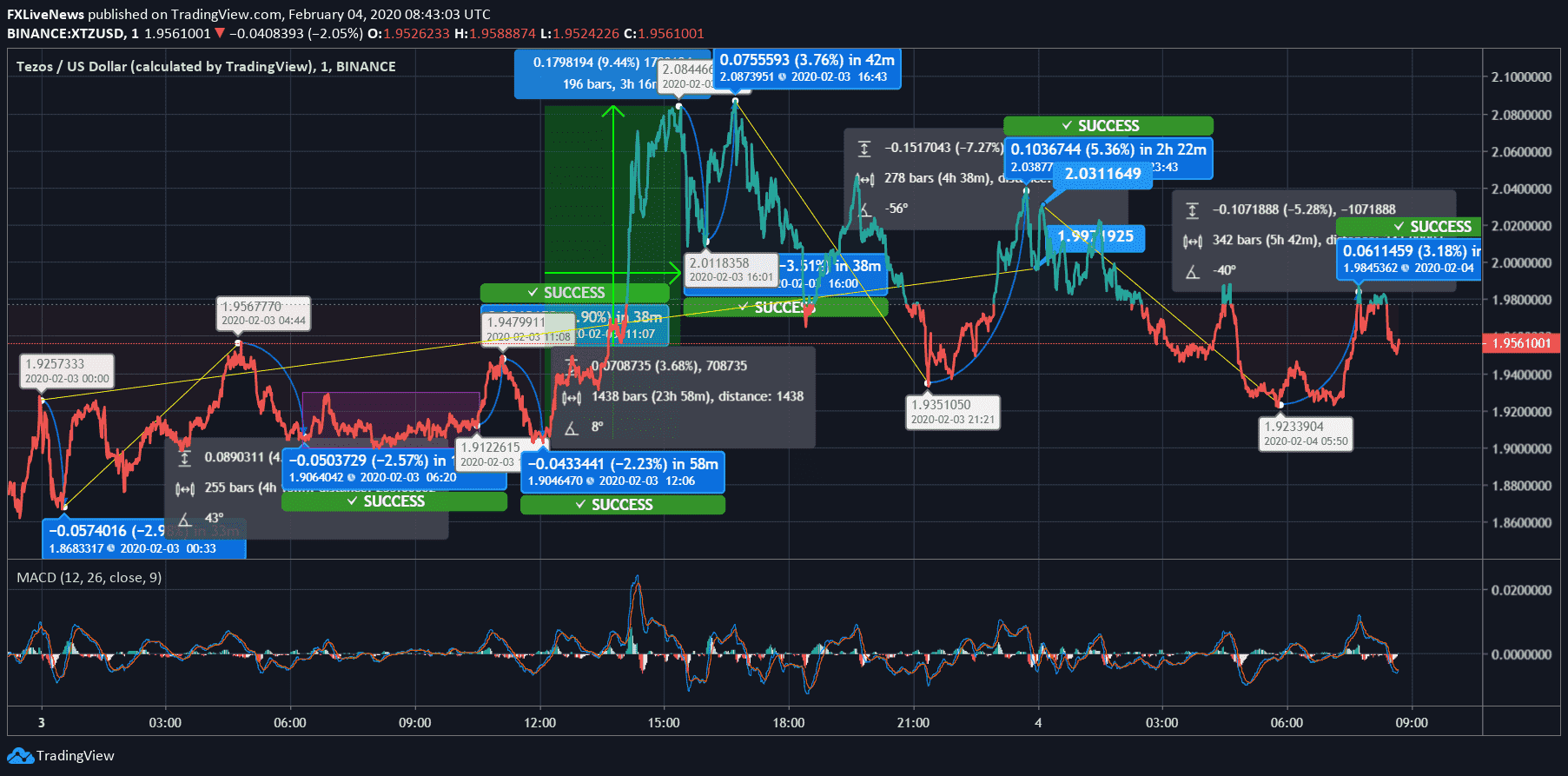 There was a tremendous improvement spotted in the Tezos price at 15:30 UTC when the price was spotted at $2.087. After this steep hike in the price of the XTZ coin, it slipped again and reached $2.011, then it recovered and touched $2.08 again. The currency couldn't manage to stay at this level and dropped to $1.93. However, towards the closing hours, the price counters moved from $1.93 to $2.03. XTZ closed the day at $1.99 with an overall intraday escalation of 3.68%.
Today, the opening hours spotted marginal volatility. The coin price plunged to $1.92 by 5.28%. Then, it recovered and jumped to $1.98. However, it recently dropped to $1.956. As per the MACD indicator, it is clearly seen that both lines are about to intersect, and the trend may change in the upcoming hours.
Tezos price is heading towards the immediate resistance level at $2.11. It looks like the same would be breached in the coming hours. The immediate support level is formed at $1.88. If the trend changes, then the coin could violate the same.
R1: $2.11, R2: $2.22 and R3: $2.34
S1: $1.88, S2: $1.76 and S3: $1.65