Most of the coins are currently experiencing a bullish trend. The top guns like Bitcoin, Ethereum, Ripple are spotted breaching 30-days high on every other day. The amazing phase in the market is benefiting the cryptocurrencies.
NEO is speculated to bring a colossal return in the coming period. The coin has marked astounding movement in the last 7-days. The traders are quite pumped and thus eyeing for a higher level. The same might be achieved by the coin in a short while. The current market scenario is likely to remain the same.
NEO Price Analysis: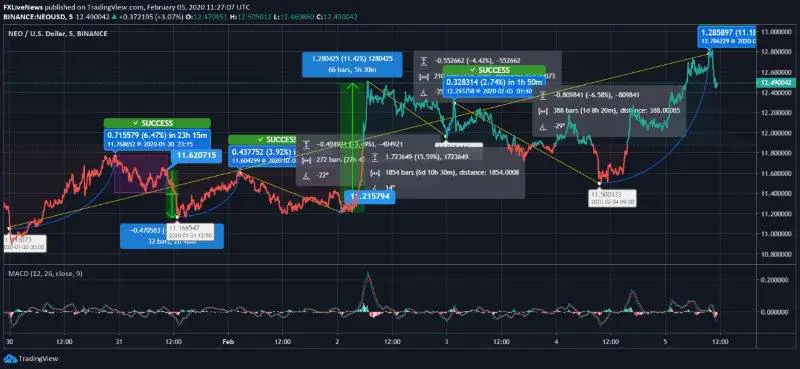 NEO price was at $11.33 in the initial hours of January 30. Then, the price escalated to $11.76 by 6.47% hike at 23:15 UTC. The currency kept hovering at the same level for some time. The price dropped to $11.16 on January 31, 2020, at 12:50 UTC. The closing hours brought the NEO price to $11.60 by 3.92%.
On February 02, the currency faced heavy fluctuations, and the price touched $11.9. The coin jumped to $12.29 by 2.74% hike. On the next day, at 01:40, UTC began dropping and touched $11.50 by 6.58%. The NEO coin took a tremendous jump and touched $12.78 by 11.18%.
The MACD chart indicates the coin is speculated price fall in the upcoming hours. NEO has currently breached the immediate resistance level at $12.46. A few hours ago, the coin was above the next resistance level at $12.74. However, if the trend changes, then the immediate support level is formed at $11.73.