Over the past month, NEO's performance has been sluggish with the bears dominating the coin most of the time. NEO price reached a low of $11.08 on 6-June-19 as per 18:00 UTC. The movement of the coin was more or less stable from 6-June-19 till 22-June-19. Since 22-June, the prices saw a sharp rise and reached a level of $20.84 as per 00:45 UTC time. It could not survive its performance at this level, and prices slowly started to decline, and while writing, the movement of the coin was bearish.
Let us have a look at the NEO to USD price comparison: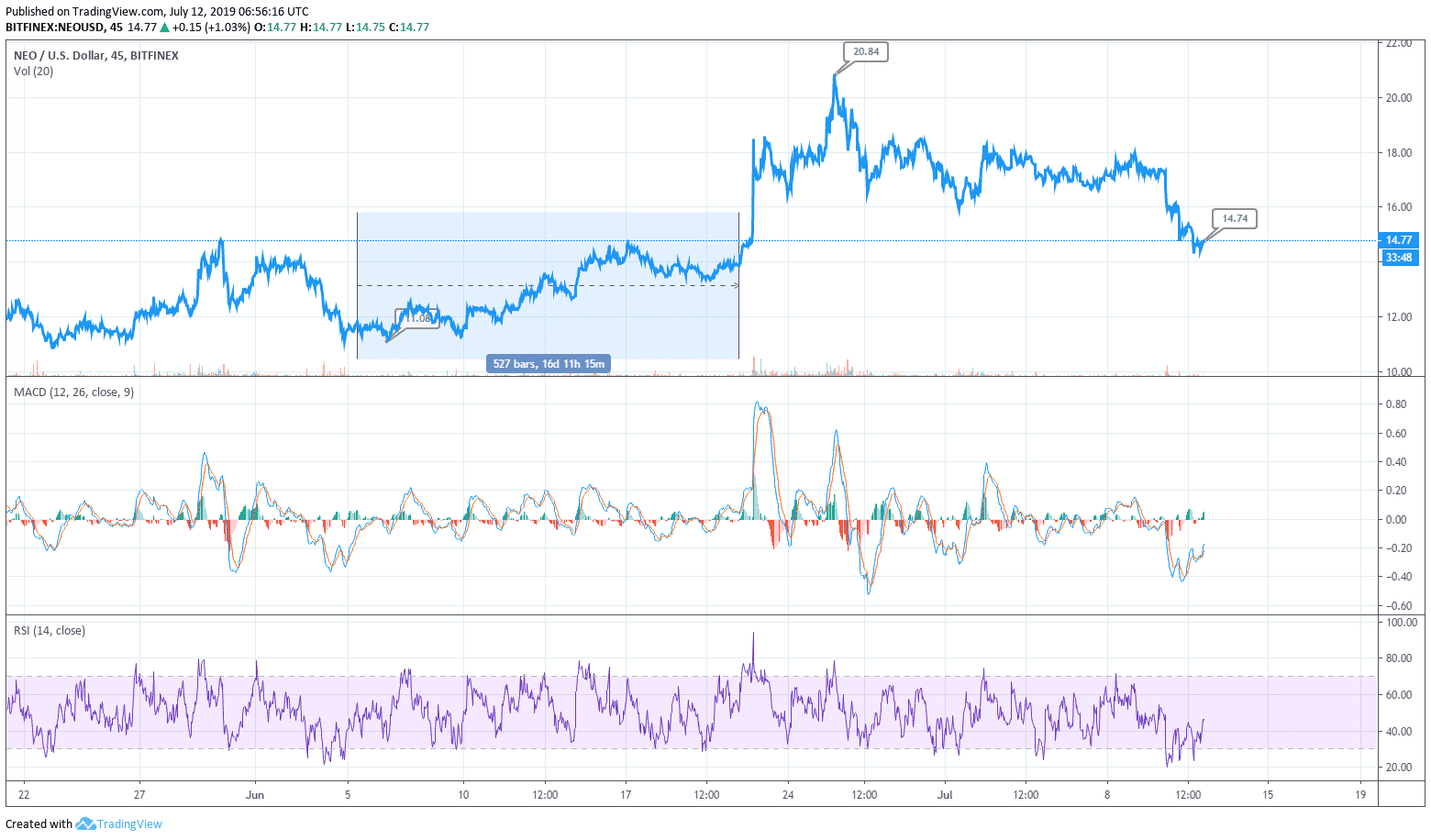 Current Statistics of NEO:
Market Cap of NEO was $1,036,433,902 at 06:59 UTC.
Price of the coin is $14.77.
24-hour volume is $484,842,241.
Circulating Supply is 70,538,831 NEO
NEO offers ROI of 8031.11%.
NEO Price Prediction and Conclusion:
Comparing the data of 26-June-19 and today, NEO price, which was $20.84 on 26th June and today the coin is reflecting a downward trend by 29%. The coin may reach to the highest level of $14.98 today but would not be able to sustain it before seeing a fall in the prices. After a week's time, NEO will more or less gain stability and prices would be around $16. By the end of 2019, NEO can reach optimum levels of $25.
MACD indicator also confirms that the current movement of the coin reflects a downtrend. The coin was an overbought a couple of times in the month of June. NEO coins have been oversold yesterday and today in the early hours. Now the number of coins being traded in the market seems to be on the neutral area. Experts suggest waiting for a week's time before you wish to invest in NEO as the coin will manage to bounce back from the current scenario by then.