The software update of ETN is finally complete. In case, any user is running a node on the web platform, they must download the updated software from Github Library. The same is not required for mobile users.
If you run a node, you need to ensure you download and use the latest software from our Github library: https://t.co/rUNM50nBPp. If you are a mobile user, no action is required. pic.twitter.com/PRkMPdnWjO

— electroneum (@electroneum) July 8, 2019
Let's see what the market statistics of ETN has to say after the software update.
Price Analysis of ETN on 8th July 2019
ETN is currently trading at $0.006405 at 08:41 UTC as on 8th July 2019. The other essentials factors are:
Return of Investment: 93.22%
Market Ranking: 107
24 Hour Volume: 468,043 USD
Market Cap Value: 62,299,426 USD
Total supply/ Circulating Supply: 9,726,502,636 ETN/ 9,726,502,636 ETN
7 Day high/ low: 0.006665 USD/ 0.003903 USD
Comparison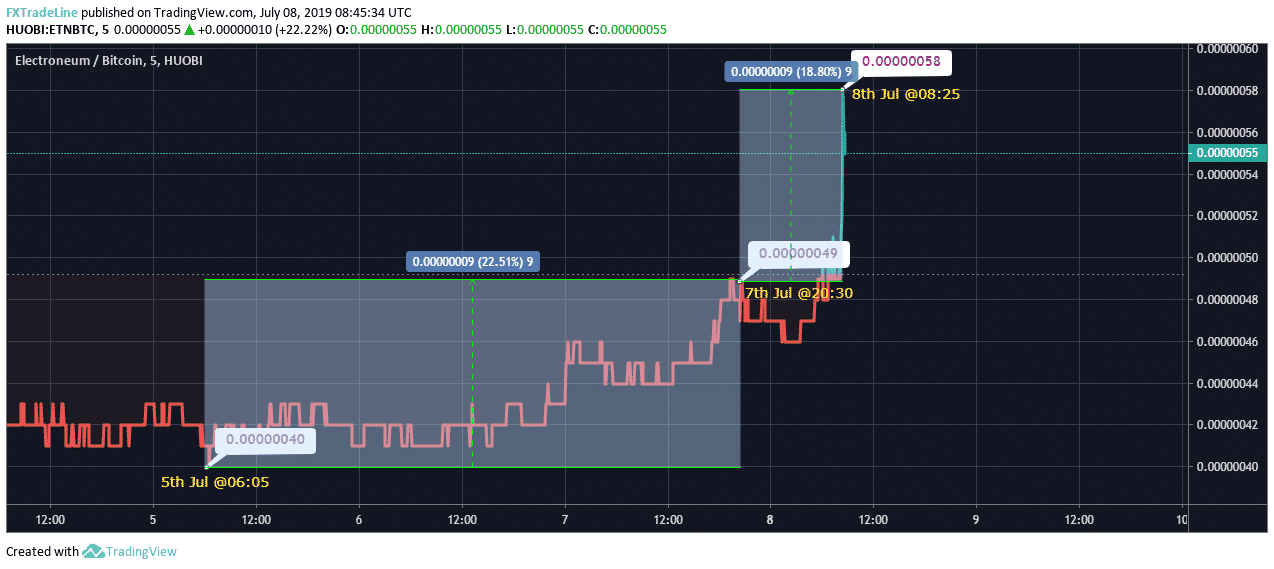 The lowest value of ETN (price BTC) within past 3 days, was seen on 5th July at 06:05 UTC trading at 0.00000040. The value then escalated by 22.51% on 7th July at 20:30 UTC trading at 0.00000049 (price BTC).
However, today the coin hopped as high as 0.00000058 (price BTC) at 8:25 UTC, a few minutes back when compared with the time of penning down. The value is now dropped at 0.00000055 (price BTC) but, is streaming in the bullish zone, exciting the investors and traders in the network.
Prediction and Conclusion
ETN is trading with a bullish trend, which means that it is a good time for the traders and investors who wish to exit the community with bountiful profits. However, it seems that ETN will be glooming soon and this is just a mirage made by the coin. We all are waiting for some great announcement to happen. But well, it comes down to your patience level! If you are patient enough with ETN, it might run back in the game like other coins. All it needs is a little time.