Ethereum price has been mainly on an uptrend over the past 5 days
Testnet of Casper PoS models to be ready by early 2020
Ethereum enables applications. Recent news from Ethereum Foundation is lifting the ETH price as it is expected to have developers to create and deploy decentralized at least tested of Casper PoS models ready during early 2020. Bitcoin has been showing remarkable resurgence over the last week, and this has affected the price of Ethereum also in a positive manner. The last 5 days ETH chart indicates mainly an upward trend through July 09 was slightly bearish for Ethereum.
Latest Statistics of Ethereum
As on July 10, 2019, at 4:26:34 UTC, current statistics are as below:
The current market price of Ethereum is $310
The Market Cap is around $33,128,344,814
24-hour volume is at $10,310,439,626
ROI is > 9000%
Circulating supply is at 106,836,032 ETH
 ETH to USD Price Comparison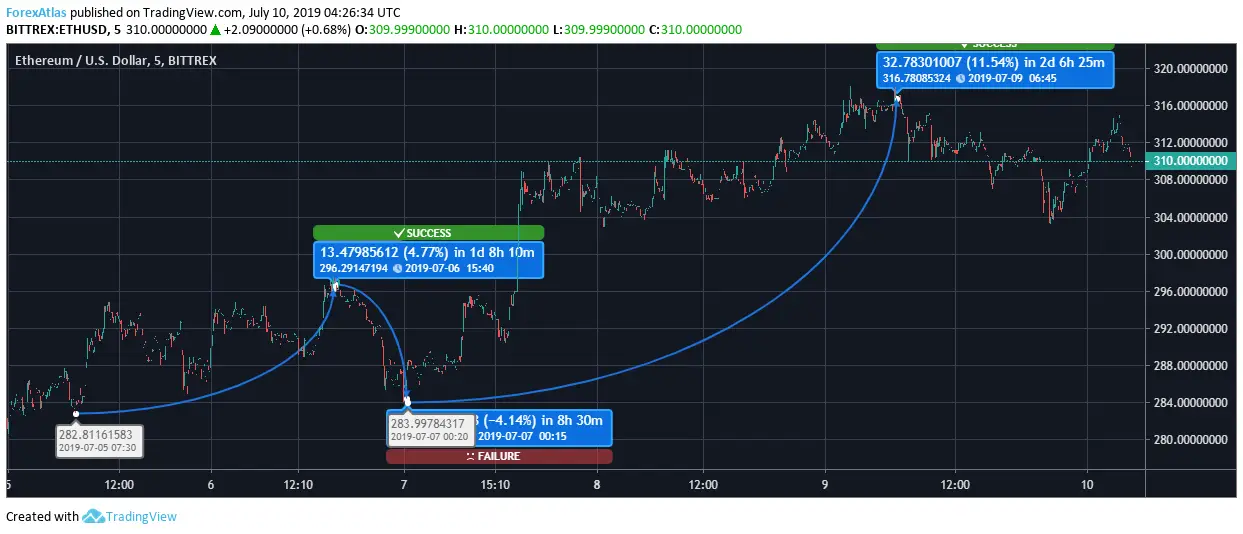 The 5-day ETH price chart shows Ethereum is moving back on the upward trend with slight downward variations. From a low of $282.812 on July 05, the price moved to $296.291 on July 06 within a time gap of 1d 8h 10m to the extent of 4.77%. It had a fall to the extent of 4.14% on July 07 in 8h 30m, the price being $283.997. The price picked up and rallied by 11.54% on July 09 within 2d 6h 25m to $316.781. Today's price of $310 is less to the extent of 2.14%. The trend indicates that Ethereum price has been pushing itself upwards with few bear phases in between.
Ethereum Price Prediction
With the Bitcoin price surge since the last week, Ethereum has also seen an upward movement in its price. A short-term bull trend seems to have set in but the crypto market being highly volatile, it is not possible to say how long this will last. Analysts still are bullish about Ethereum in the short run and expect the price to trade around $320 by July end and around $500 by the end of the year.
Conclusion
Investors shouldn't expect much from the sudden upturn in the market. They should wait for the market to show more maturity and the price to show a steady turn to time their investment decisions.