After the release of the software update, ETN has been rising in the upward direction. It might attract many other exchanges to join hands with Electroneum soon! Let's hope that it happens soon for ETN to sustain its momentum. Electroneum is fluctuating good profits to the investors right now, and hopefully will continue to do so in the future as well!
Electroneum Price Analysis
Currently, the ETN coin price is trading at $0.006549 at 05:26 UTC on 9th July 2019, which is quite a remarkable hike. The other calculated factors contributing to the ETN chart are as follows:
Return of Investment: -93.06%
24 Hour Volume: 1,309,124 USD
Market Cap: 63,702,897 USD
Total supply/Circulating Supply: 9,727,604,764 ETN/ 9,727,604,764 ETN
7 Day high/low: 0.007045 USD / 0.003929 USD
ETN Price Comparison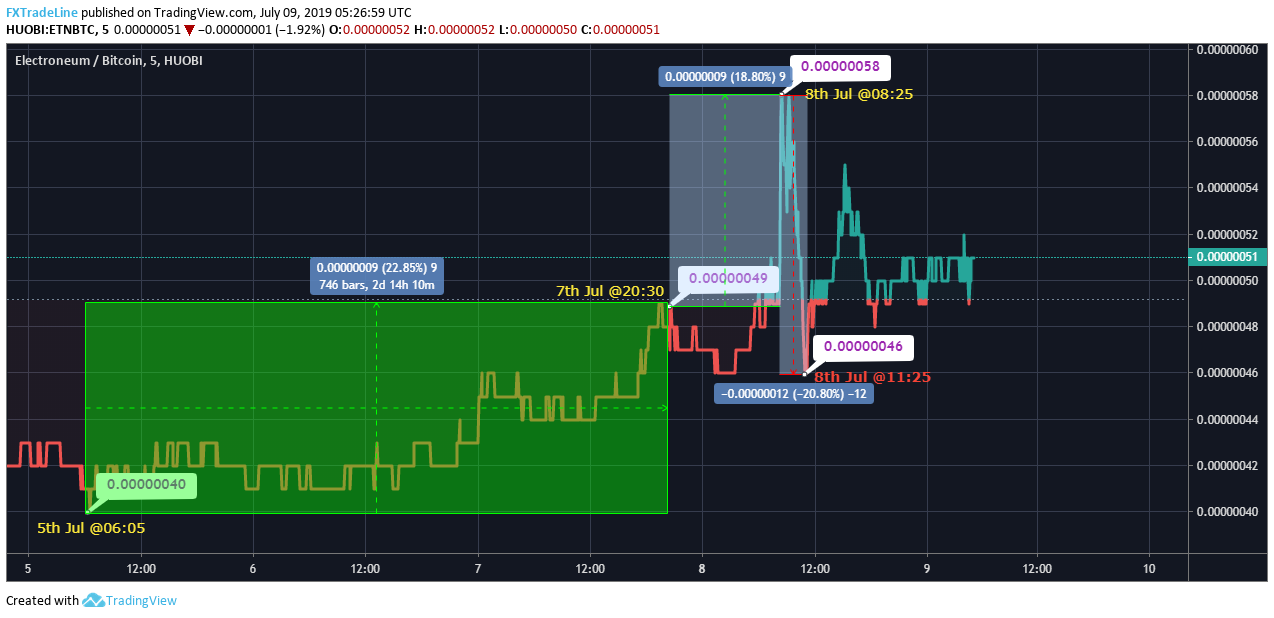 On comparing the last week data, it was seen that ETN had seen a remarkable escalation in the price against BTC value. The last lowest was realized on 5th Jul with 0.00000040 BTC at 06:05 UTC which was increased by 22.85% by 7th Jul at 20:30 UTC with a trading value of 0.00000049 BTC. This was still a pivot point, and then the value was further increased by 18.80% on 8th Jul 08:25 UTC with 0.00000058 BTC.
However, in a few hours, the value was dropped by 20.80% at 11:25 UTC with 0.00000046. This value is now increased by 10.8% with a trading value of 0.00000051 as of now at 05:26 UTC, 9th July 2019.
Electroneum Price Prediction and Conclusion
ETN is playing quite a strong bullish trend these days. After the software updates, the valuation has seen remarkable progress. But it still needs to work on the trust of traders as the market ranking is not that impressive that. But with the grown seen right now, Electroneum might rank under 100 top coins in the coming months.
For now, traders must enjoy the profits in the bullish nature by 'selling' the coin. By the end of 2019, the value might trade around $0.0075.