BCH coin has shown very good growth and performance over the past several days. The bulls seemed to dominate the coin, but it saw a fall on 4-July-19 wherein prices reached $388.38. Considering the huge potential of Bitcoin Cash, it did manage to make a comeback and reached as high as $424.71 on 9-July-19 as per 06:00 UTC. From 5-July-19 till 9-July-19, the coin managed to show growth of more than 9%. The coin was performing well, but it saw another setback and price fell drastically down to $321.64 today at 03:45 UTC. However, the bearish run seems to end now with BCH showing positive signs and an upward movement. We anticipate that Bitcoin Cash will continue to rise by the end of the day without any major setback.
Let us look at how BCH coin has performed: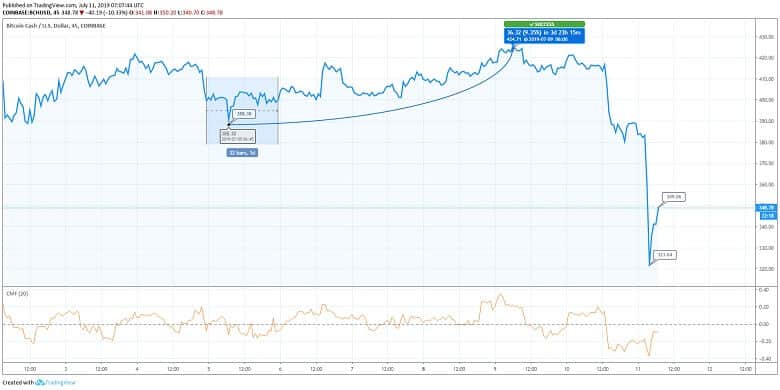 Current Statistics of BCH:
As per 06:44 UTC today, Market Cap of the coin was 6,082,779,922 USD.
BCH Price is trading at 349.06 USD
24-hour volume is 2,318,648,698 USD
17,885,175 BCH coins are at present in circulation.
ROI stands at -38.71%
Bitcoin Cash Price Prediction:
If we compare the price since 5-July-19 wherein price was at $388.38 at 06:45 UTC and today, the present movement of the coin indicates a downward run by 10%. By tomorrow, price of Bitcoin Cash might change to the level of $360, this is the basis on the past data and calculated resistance & support levels of the coin, which are $375 and $415, respectively. After a timeframe of 6 months, the coin will grow leaps and bounds and can reach up to $550.
Conclusion:
Chaikin Money flow indicator reflects that the coin has been in bearish trend yesterday and today, the movement seems to be near the neutral. By tomorrow, BCH may pick up further momentum and continue to shine like earlier.