GBP/USD continues to move flat as the price accumulates around 1.235 as it lacks a direction to trade for the second day of the week, on March 31, 2020
This price accumulation seems to be a result of the aftermath of a rally that happened over the previous week
The directionless trend remains afloat above 61.80% Fib and has lost 1.07% from the weekly high of 1.24889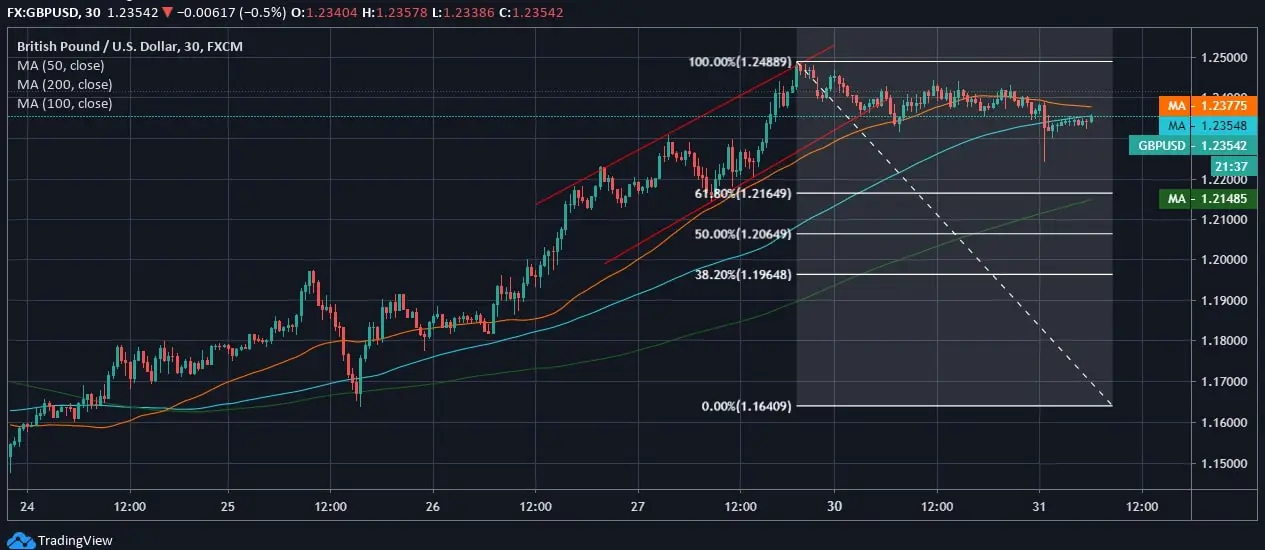 Taking a glance at GBP price against the greenback over the past week, we see that the pair has been stuck with accumulation above 1.220 due to a lack of steady momentum. The pair is drawing a narrow price range after a notable rally, and higher high trend as the global crisis does not take any stance to curb. The Great Britain Pound lacks support from 50-day and 100-day daily moving average, while, retains support from 200-day MA around 61.80% Fib. On a half-hourly chart, the pair has retraced an intraday low at 1.22423, until the time of writing.
Nonetheless, we have even observed a notable uptrend ahead of this stagnation, which is likely to be the result of soaring Coronavirus cases in the United Kingdom. Therefore, the trend is either flat or bearish, and a further breakdown will test support at 1.215, followed by 1.210. However, on the other side, if the pair breaks upsides, it is likely to retest weekly resistance at 1.248.