GBP/USD was seen accumulating until the onset of the ongoing month, and the pair is now experiencing a trend revision as it draws a fine downtrend. Moreover, after a steep fall in March, when Pound breached below 1.15 at 1.14 due to the worsening situation from the Coronavirus, which was then addressed as the Pandemic by WHO, the pair has failed to rise above 1.265 persistently. Therefore, it draws a major resistance, and as per the current momentum, it is facing intense selling pressure. Here, Pound is seen weakening in comparison to the US Dollar.
However, in the early trading sessions today, Pound had hit around 1.2125 for a brief period of time and at just at the onset and within no time retested intraday support at 1.204. Moreover, the GBP/USD fell to the lowest trading level and retested 7-week support, which was the last hit on March 26, 2020.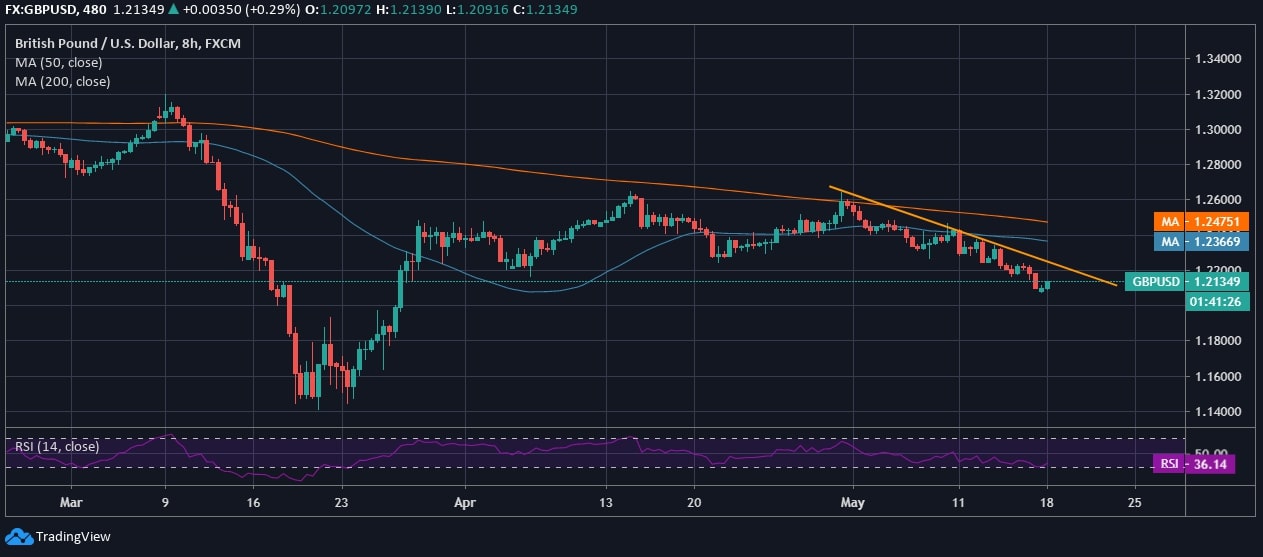 On the 8-hourly chart, Pound breaches the price accumulation and draws a descending trend due to a lack of traction. GBP/USD even fails to retain support from 50-day and 200-day daily MA after a slide below 1.24 price area. While the US Dollar was seen struggling in the previous week and hence a subdued demand of the US Dollar held support to EUR/USD.
Amidst the growing fear of the second wave of Pandemic, the economies have started to open up, and we believe that slowly yet not steadily, a rebound will help the currency to gain momentum towards the end of the month. However, the further dip will lead to retesting old support levels from March 2020 when the price of Pound hit the YTD lowest against the US Dollar.