Binance Coin (BNB) price has been trying to get out of the bearish sentiment since the start of 2020. The coin has seen intermittent levels of upward and downward trends with the bears ruling the roost most of the time of January. The price of BNB coin has been showing a strong uptrend after a sluggish start to the week as seen from the seven-day price chart. The price has been shuffling in the range between $20.53 – $25.58 over the past seven days.
Binance Coin Price Analysis
BNB price has been trading with a strong bullish trend as seen from the seven-day's price chart. The price was below the baseline on February 07 with the price being at $20.5366. With the price continuing below the baseline, the coin still managed to recover at $22.2579 on the same day showing an upward momentum to the extent of 8.60%. With the market volatility continuing, the price of Binance Coin fell to $20.9818 showing a downward movement of 5.67%.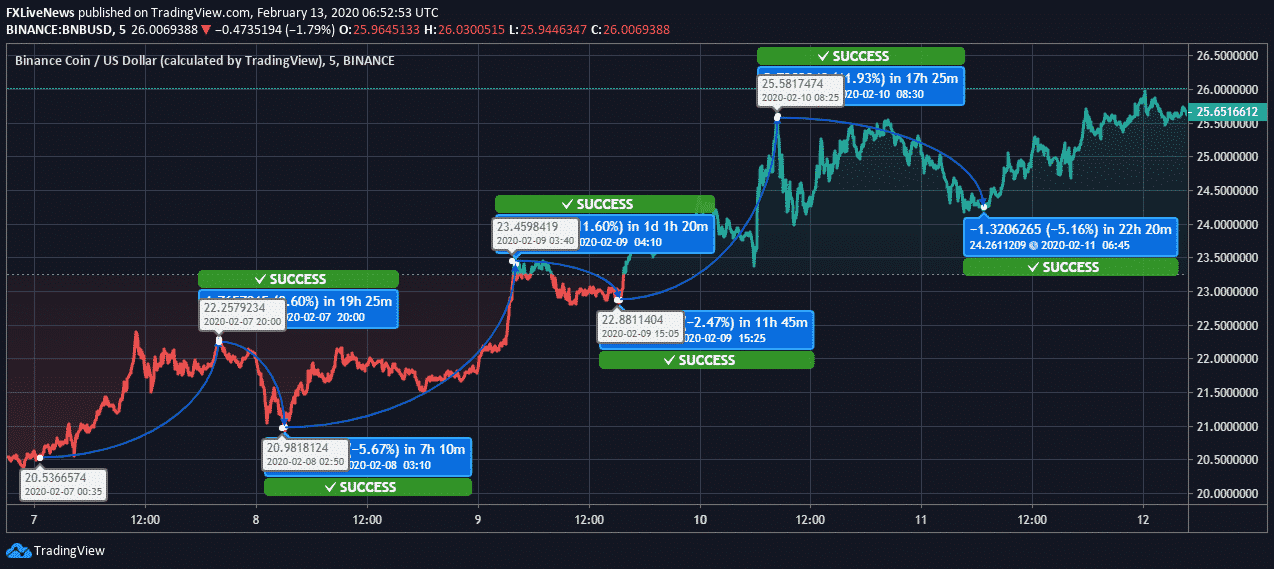 The coin went up on February 09 when the price reached a high of 11.60% at $23.45. It fell marginally to $22.88 on the same day, the fall being at 2.47%. From then on, the price of BNB coin went up and moved above the baseline and reached $25.58 on the next day by 11.93% hike. With the volatility continuing, the currency once again fell to $24.26 by 5.16% drop on February 11. Today, the price of BNB coin has shown a remarkable recovery, and the price touched $25.65.
Binance Coin has been trying to trade above the next resistance $29 or higher. Analysts are banking on the ability of the coin to bounce back after sluggish downturns and expect the coin to pick up its winning momentum during the year.
Investors should not worry about the current volatility in the crypto market as it is a short-term trend, and the market is expected to show more stability during the year. Day traders can continue to trade and make good gains.