USD/JPY exhibits an amazing intraday rebound from 106 to 106.5 in the given trading duration from the onset of the day until the press time. After a notable decline over the past six days, USD/JPY seems to have an amazing intraday momentum in the global market. After the mid-day of the trading session, USD/JPY spiked from the weekly lows and exhibited a clear rebound.
Technical Analysis: USD/JPY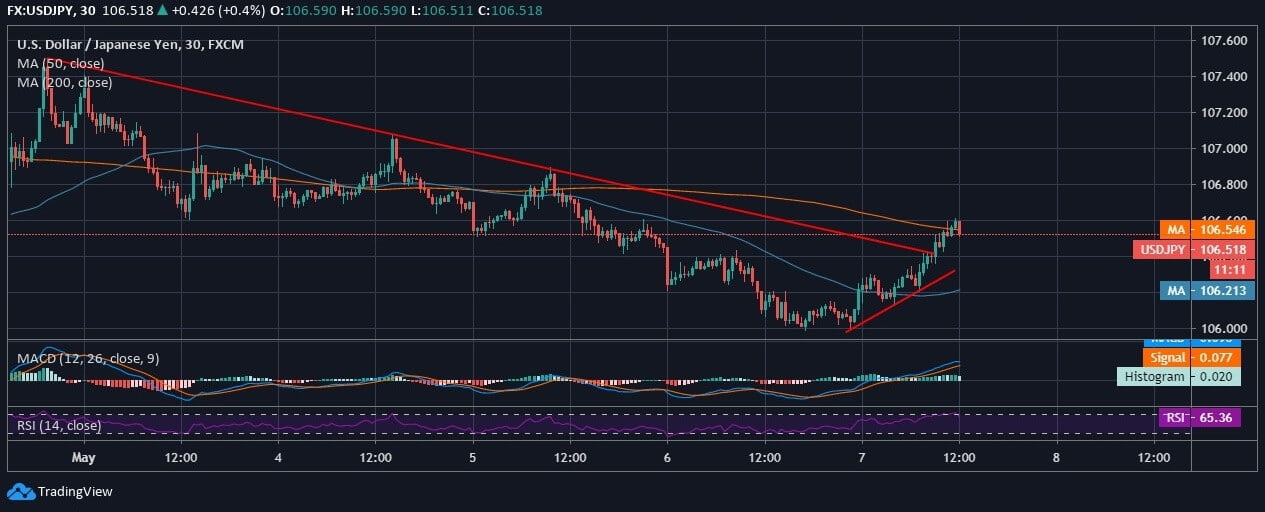 After a brief short-coming below 106, USD/JPY closed with a gaining rebound on Wednesday, and after a slight bullish candlestick aversion, the trend rose steeply today. The bullish trigger is likely to face resistance at 106.8, and the return of US Dollar as the reserve currency as the officials extend lockdown with relaxations for the economy to start, will boost the pair and its demand.
As of now, the technicals are drawing a bullish picture as the MACD crosses above the signal line due to intraday rebound in the price of USD/JPY. The RSI is also nearing the overbought region as the demand increased and lies at 65.36. However, once the pair makes a complete rebound, it will retain support from 200-day MA while holds 50-day daily MA support at 106.2.