USD/CAD drops below 50-day and 200-day moving average due to intraday pullback in the price of WTI crude oil. The pair has retested 1.40 after a 10 days retreat where USD/CAD marked a 4-year high at 1.46722. As the demand for oil plunges due to widespread of Coronavirus and extension of lockdowns in the country, the related current faces intraday correction. The global recession is digging deeper as the COVID'19 is not likely to leave any sooner. That said, the Federal Reserve has injected a $2.2 trillion stimulus package in the economy to extend hands amidst the pandemic outbreak.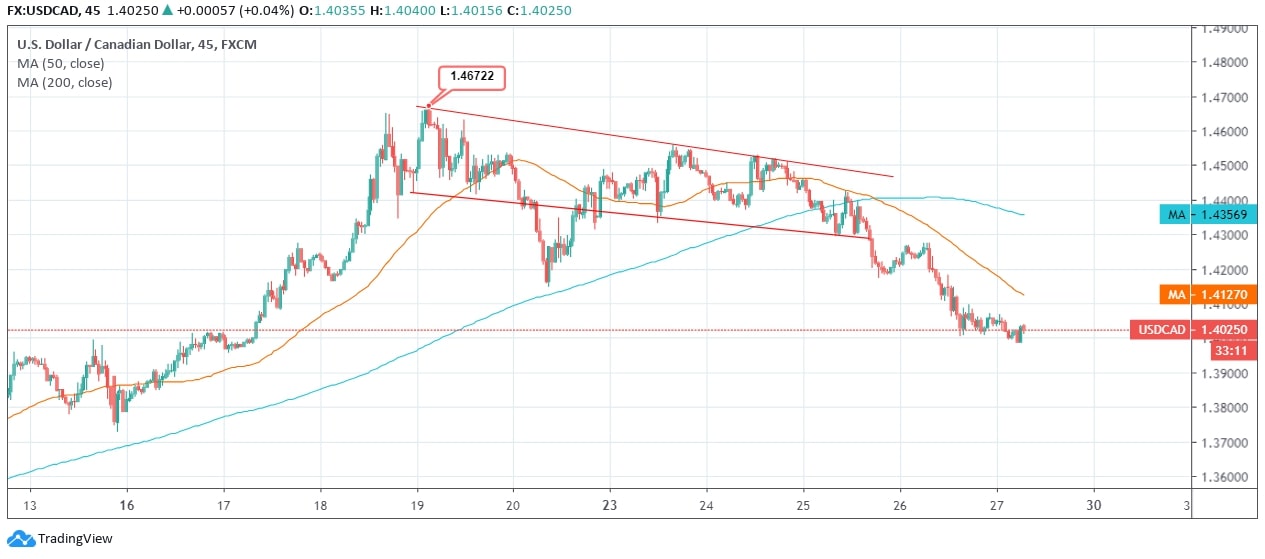 After marking a bullish move at 1.46722, USD/CAD became the prey of 4-day, a subtle trend followed by a steep move to currently hover around 1.40250. Towards the end of the downtrend, the pair lost support from the 50-day and 200-day moving average as the greenback weakened. This has rightly burdened the sight of the American Dollar as the US surpasses the coronavirus cases in comparison to the epicenter of the virus.
USD/CAD failed to keep afloat and recorded a 1.75% low from yesterday's trading session high marked at 1.4276 to the current price at 1.40250. Moreover, the pair has already slid below the 61.8% Fib retracement level as it slides below 1.4175. The major support to watch out at remains grounded at 1.39; however, a further change in the oil price, either negative or positive, is likely to be the major catalyst for the pair's intraday performance. On the contrary, if the pair retraces a positive intraday move, there is likely to be an S/R flip as 61.8% Fib will be the resistance to look at.