USD/CAD hovers around the trading levels which were last seen in January 2016, forming a "Double Top"
USD/CAD beats for bulls around the immediate rising support zone to 1.465, with a green candlestick hitting around 2016 price
WTI crude oil price crash happens to be the major fiasco for the pair—USD/CAD along with the impact of public health due to global crisis on Canadian economy
Canada's economy like the economies around the world is likely to be a serious prey of the recession that has broken due to the outbreak of pandemic. As per the stats, around 5,00,000 workers have applied for their employment insurance until now and the number is likely to increase as the spread of virus accelerates. Moreover, the further impact can be as distressing as a job-loss, as per the current situations hint at.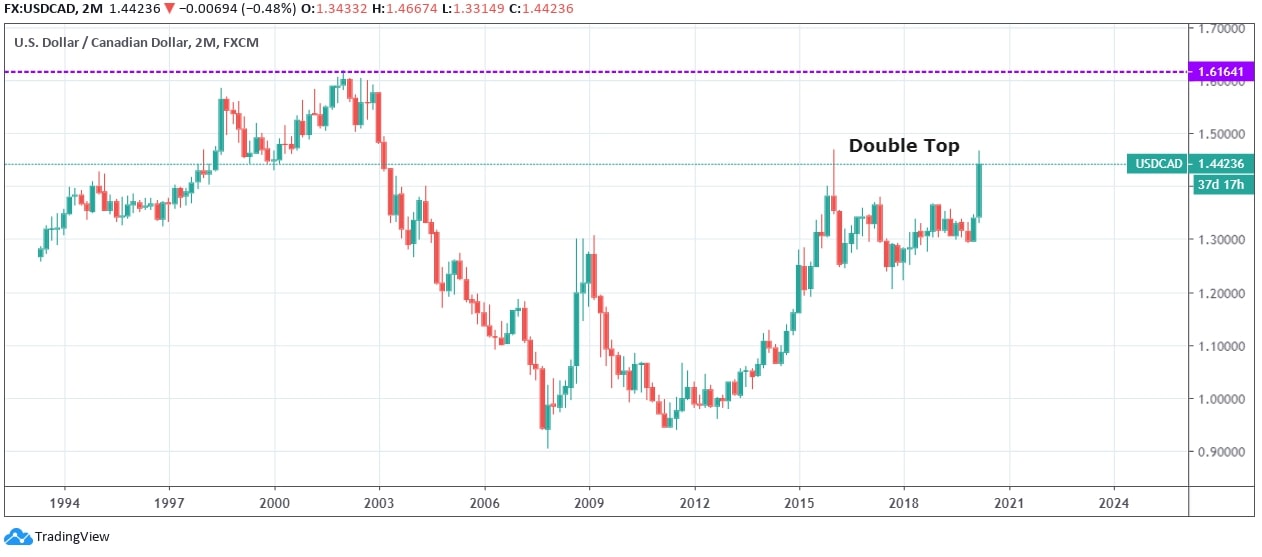 The Double Top around 1.465 by USD/CAD is totally a risk for the near-term as the Canadian Dollar weakens against the US Dollar. The US Dollar is believed to be the most demanded asset as the liquidity happens to be the priority. The brief high hit by the pair today,1. has a strict resistance awaiting at 1.4674 and 1.4800. However, in order to see the further resistance being breached, we should have a brief check on the price of WTI crude oil which happens to be the major influencer for the pair to behave in a certain way. The RSI of the pair is in its overbought region as the US Dollar continues to spike against the Loonie and many other currencies of the world. The current retreat is not helping to suffice the bearish sentiment as the economic uncertainty outweighs due to ascending cases of Coronavirus all around the world.