The Covid-19 pandemic has brought the power distribution companies (DISCOMS) in India to their knees. They are currently facing massive cash flow problems and cannot pay power generating companies unless cash infusion is made in this sector.
To mitigate this problem and to bring the ailing DISCOMS back on track, the Government of India has decided to initiate a one-time fiscal relief by granting a $306 billion revival package to be disbursed through the Power Finance Corporation and Rural Electrification Corporation (PFC-REC).
The Finance Minister Nirmala Sitaraman has announced an overall economic stimulus package that will cover all major sectors and industries. India has been one of the countries hardest hit by the pandemic in the world, and without government fiscal intervention, the economy will only go downhill.
Sitharaman said,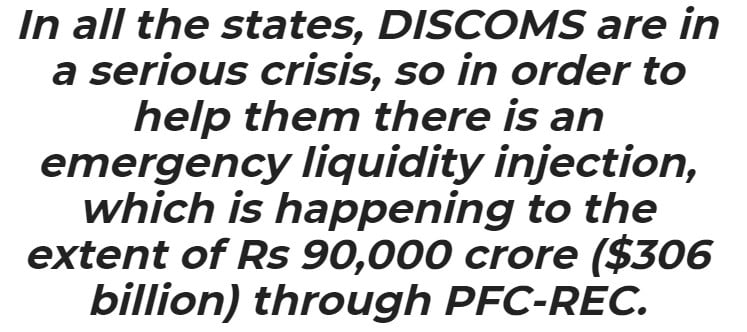 Further elaborating on the modalities of this package, she said that the state governments would issue guarantees for the loans for the exclusive purpose of discharging the liabilities by the power distribution companies to the power generating companies (GENCOS). All the GENCOS falling in the central public sector would be instructed to offer rebates to the DISCOMS, which would be passed on to the large industrial sectors, thereby providing much-needed relief directly to bulk consumers. This would help in gearing up for infrastructure growth.
It is ironic that such a situation has come to pass in a surplus power generating country. The root of the problem is that there has been a drastic drop in demand for power and missing bill payments by consumers after a total lockdown was introduced in late March. Since then, the DISCOMS have been limping along, saddled with huge receivables that have made payments to generating companies near impossible.
This infusion of funds is expected will ease the situation now that the lockdown is being lifted in phases. The poor financial performance of the DISCOMs has had a telling and adverse effect on India's entire power sector.