EUR/USD breaks the bullish uptrend as it plummeted below 61.80% Fib Retracement Level and gives a weak momentum at present due to aggravating of global crisis
The new quarter started with a subtle downtrend as Euro slid below 1.100 price marks and failed to remain afloat against the US Dollar
Over the past week, the pair mounted to a weekly high of 1.11483 and holds strong weekly support at 1.06641
The selling pressure remains dense as the pair faces intraday accumulation yet plummets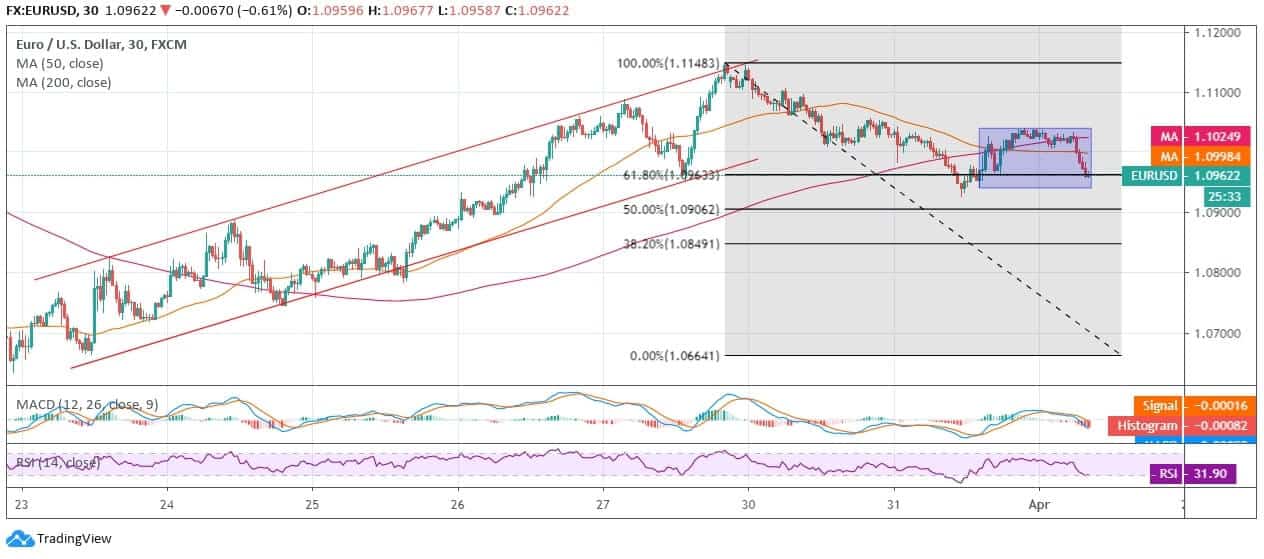 Taking a glance at the half-hourly movement of Euro against the greenback, we see that there is a trend reversal after a week of bullish divergence. However, we have seen a break in utter bearish signal as the price is seen accumulating yet plummeting.
This has led to losing the traction as the 50-day, and 200-day support fails to suffice yet manages above 61.80% Fib Retracement level. The bearish ring intensifies as the signal line has crossed above the MACD line showing a bearish pull.
However, on the upside, the major resistance for EUR/USD to look out for lies at 1.104, followed by 1.11 and 1.115, while the support lies at 50.0% Fib Retracement level.