Aussie Dollar extends its dip against the greenback as the global crisis, and economic crash digs deeper losses in the market
We are likely to see a potential downtrend forming between the price rally that started from the previous mid-week due to increasing cases of novel Coronavirus around the world
However, the price trend manages to remain above 61.80% Fib Retracement level as is managing to be within the uptrend formed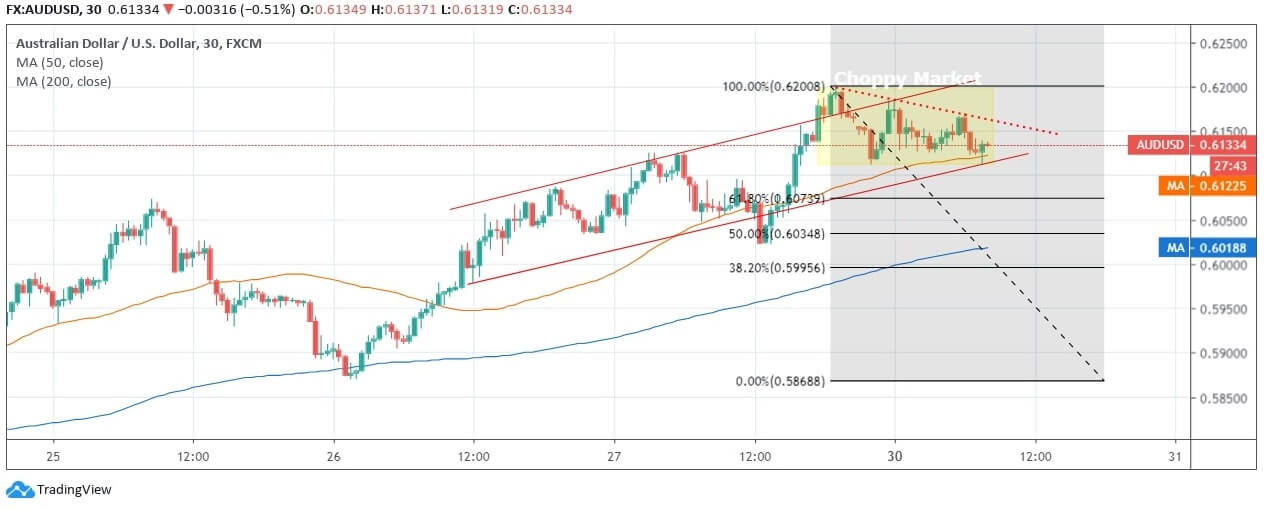 Not just this pair, but the major currencies like Great Britain Pound, Canadian Dollar, and investment assets, including Gold, are seen plummeting due to an increase in the duration of lockdown in many countries including the US, which has now exceeded the toll of infected people in compared to the epicenter.
AUD/USD is forming a potential higher high trend if it does not extend the dip below 61.80% Fib. The pair had been continuously gaining until it got hit by a choppy market towards the end of the previous week, which has limited the gains until it takes an intraday bullish divergence.
However, before it fell to the current trading zone of 0.6133, it marked a fresh weekly high at 0.62008, after which the trend is exhibiting potential higher lows. Since the dip is not below 61.80% and 50.0% Fib, the Aussie is retaining the support from 50-day and 200-day daily moving average against the American Dollar.