The dollar came under sustained pressure as a fiscal package to rescue the economies in the European Union and the positive progress towards a Covid-19 vaccine appeared to be a reality today. Even though the summit of European leaders dragged beyond the fourth day, there appears to be a consensus on a huge stimulus package for the bloc.
This optimistic outlook achieved a breakthrough for the Euro as it ended on a 4-month high at $1.1467 and held a shade below at $1.1460 in the trade of Asia. Apart from the stimulus package, news filtered in of encouraging test results of a COVID-19 vaccine. Scientists at Oxford University seem to have finally broken the glass ceiling and a vaccine to this dreaded disease seems to be on the cards.
A combination of these factors is responsible for the pressure being exerted on the greenback and the Euro giving off positive signals.
It is not only the Euro that has seen a positive trend against the dollar only; other currencies have been similarly affected with the dollar trading at 95.687. The pound finished with a gain of $1.2683; the AUD rose by 0.1% to above 70 US cents and the same is the case with the NZD. The Yen, though, held ground at $107.23.
The Commonwealth Bank of Australia FX analyst Joe Capurso while commenting on the development, said,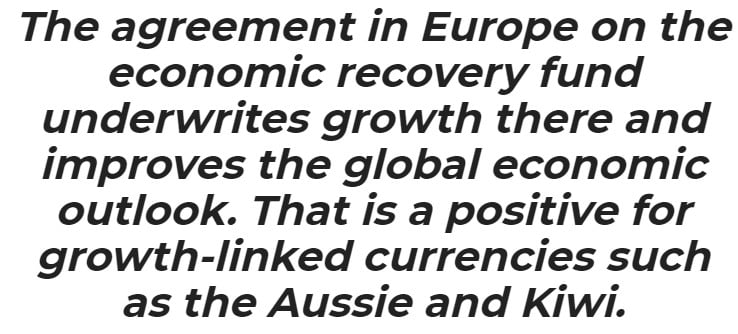 The market optimism is largely attributed to the development of the Covid-19 vaccine too. In a collaboration between AstraZeneca of Britain, Oxford University, and China's military research unit CanSino Biologics, the drugs developed have come out successful and have triggered a reaction in human trials.
In the meantime, talks on the European package are slated to be resumed today when Britain's negotiator David Frost hosts Michael Barnier, his EU counterpart, to dinner.